Looking for something specific? Skip ahead:
---
Introduction to ControlShift Events
ControlShift's events tools make it easy for your supporters to take the lead in organizing events in their communities. Like all ControlShift features, we've made the events tools easy for members without online organizing experience to quickly create and manage their events – with tactical support from your organization.
The ControlShift events tools can support your organization's work in many ways: by allowing you to easily manage a distributed day of action, by allowing your supporters to make their groups and petitions more powerful, and by making it simple for your supporters to find opportunities to get involved near them.
Types of ControlShift Events
Within ControlShift there are six types* of events:
Calendar events, which are usually a part of a day of action or other grouping of events. These events generally share a common theme, have a custom lookup page, and often have customized pre-set defaults.
Group events, which are sponsored by a ControlShift group. Attendees of these events are automatically subscribed to group updates. Hosts can invite current group members to attend the event via email.
Petition events, which are tied to a petition campaign. Signers of the petition will generally be automatically invited to these events after signature. Hosts can invite previous petition signers to attend the event via email.
Partner events, which are co-sponsored by a partner organization.
External events, which are events that are synced from a third-party system, like EveryAction/NGPVAN or Mobilize.
Standalone events, which are not associated with any other features on the platform.
*Within ControlShift, "types" of events are generally not mutually exclusive. This means that a petition event can also be a partner event and it can also be included in a calendar. An external event can also be associated with a group and can also be in a calendar, etc.
The event creation process and the event RSVP page will vary based on the event's associations, but the basic tools for event hosts and attendees will generally not change.
Event Host Tools
After creating their event, event hosts will gain access to a suite of tools to help them make their event a success.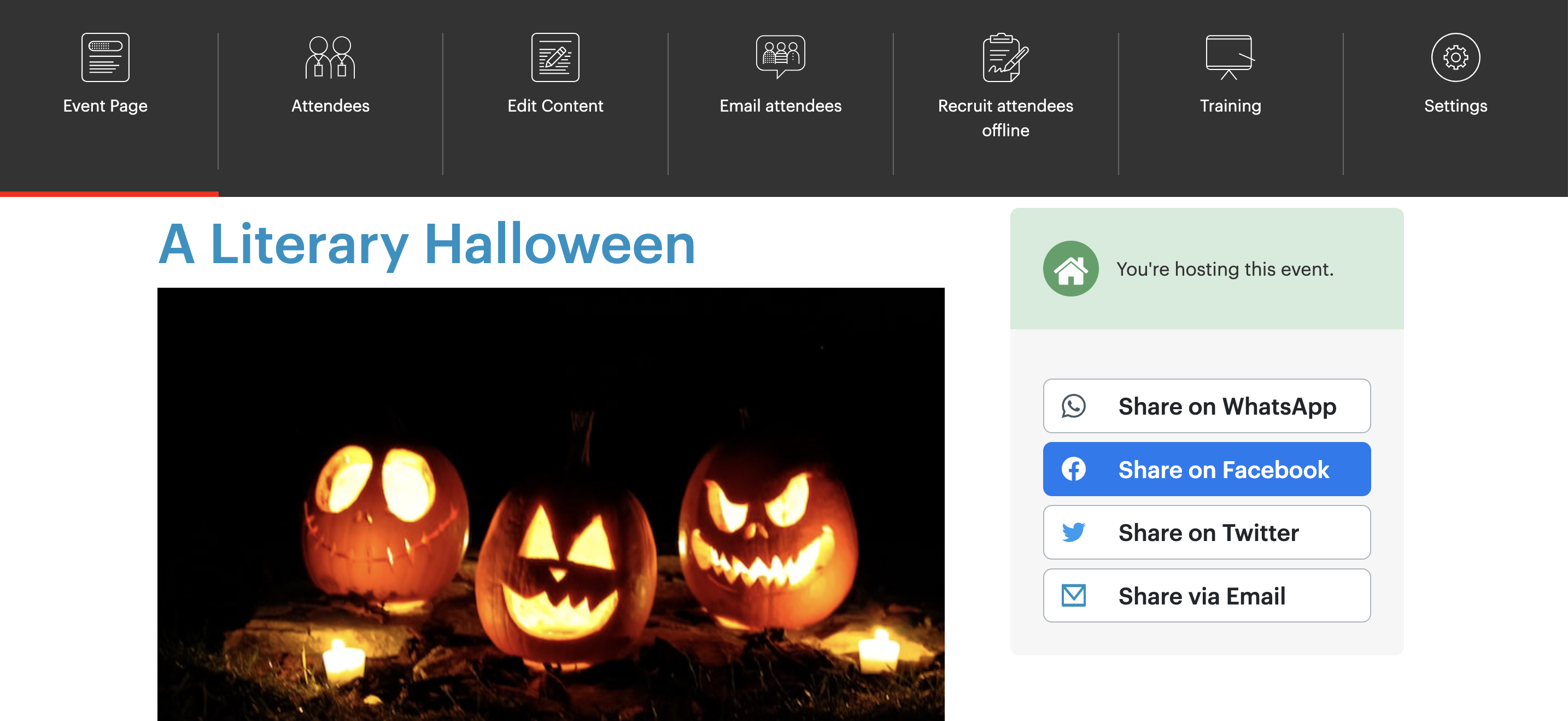 Event Image by Taylor Foss on Unsplash
Attendees: allows hosts to see their event's attendees. The information shown here will vary based on your organization's privacy settings. Depending on the event, the attendee list will also include shift schedules and responses to custom fields.
Edit Content: allows hosts to update their event details. Attendees will be emailed about pertinent changes.
Email attendees: allows hosts to contact their supporters via email. These emails require moderation.
Recruit attendees offline: allows event hosts to print an offline signup sheet for their event, which can be used if they're recruiting attendees in-person.
Settings: contains various optional configurations for events, like co-hosts, shift setup, and pre-approved custom fields.
In addition to the fields in the host toolbar, hosts also generally have access to a discussion forum at the bottom of the event page. This event forum is open to hosts and attendees.
Event Moderation
Moderation is one of the main workflows for admins, and content in need of moderation will be added to the unified moderation queue in your admin tools (admin homepage > Moderation).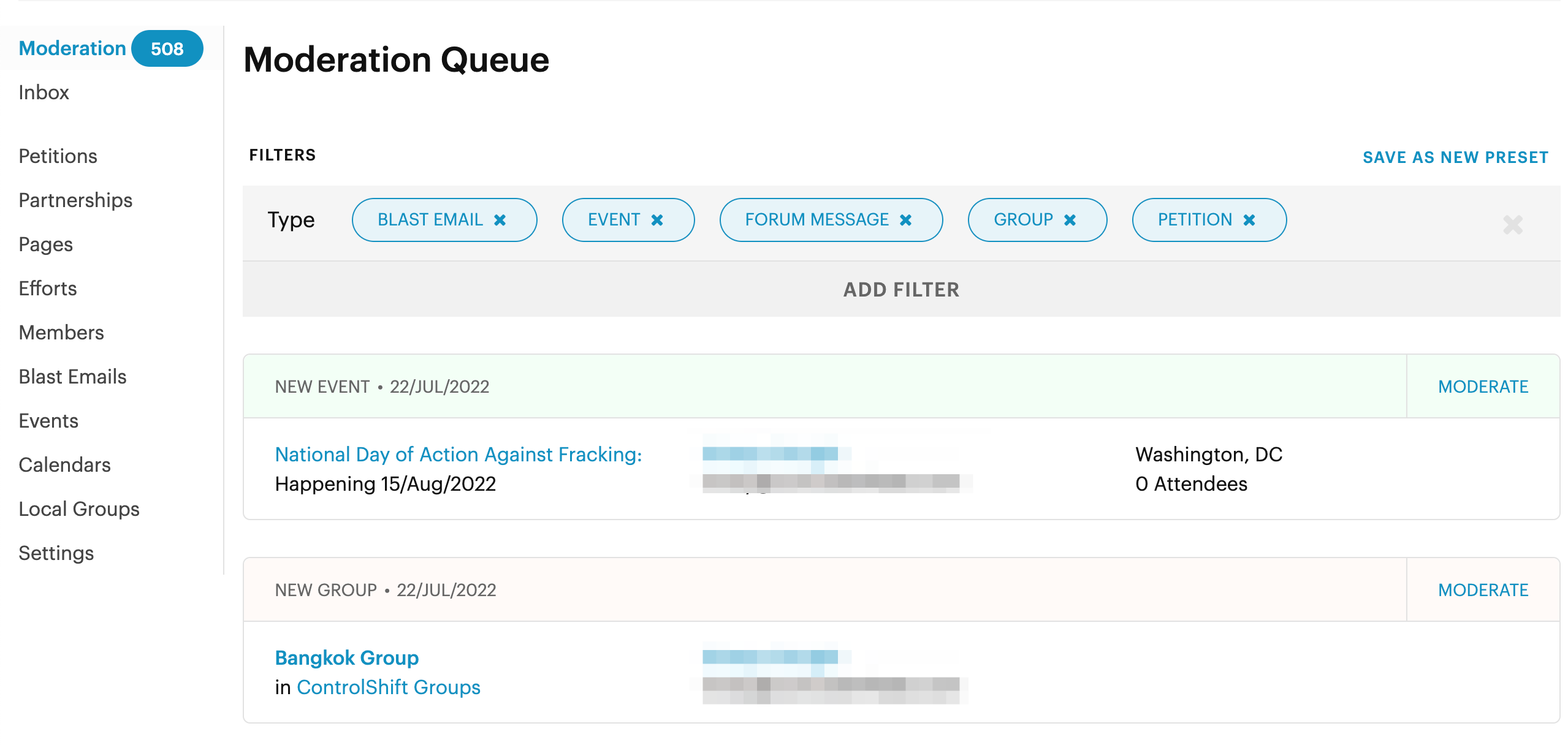 To moderate an event, click Moderate to the right of the event, which will open a moderation modal. The moderation modal will show you what we know about the event, and you'll be able to make updates if needed. Once you're ready, choose a moderation status from the dropdown in the modal.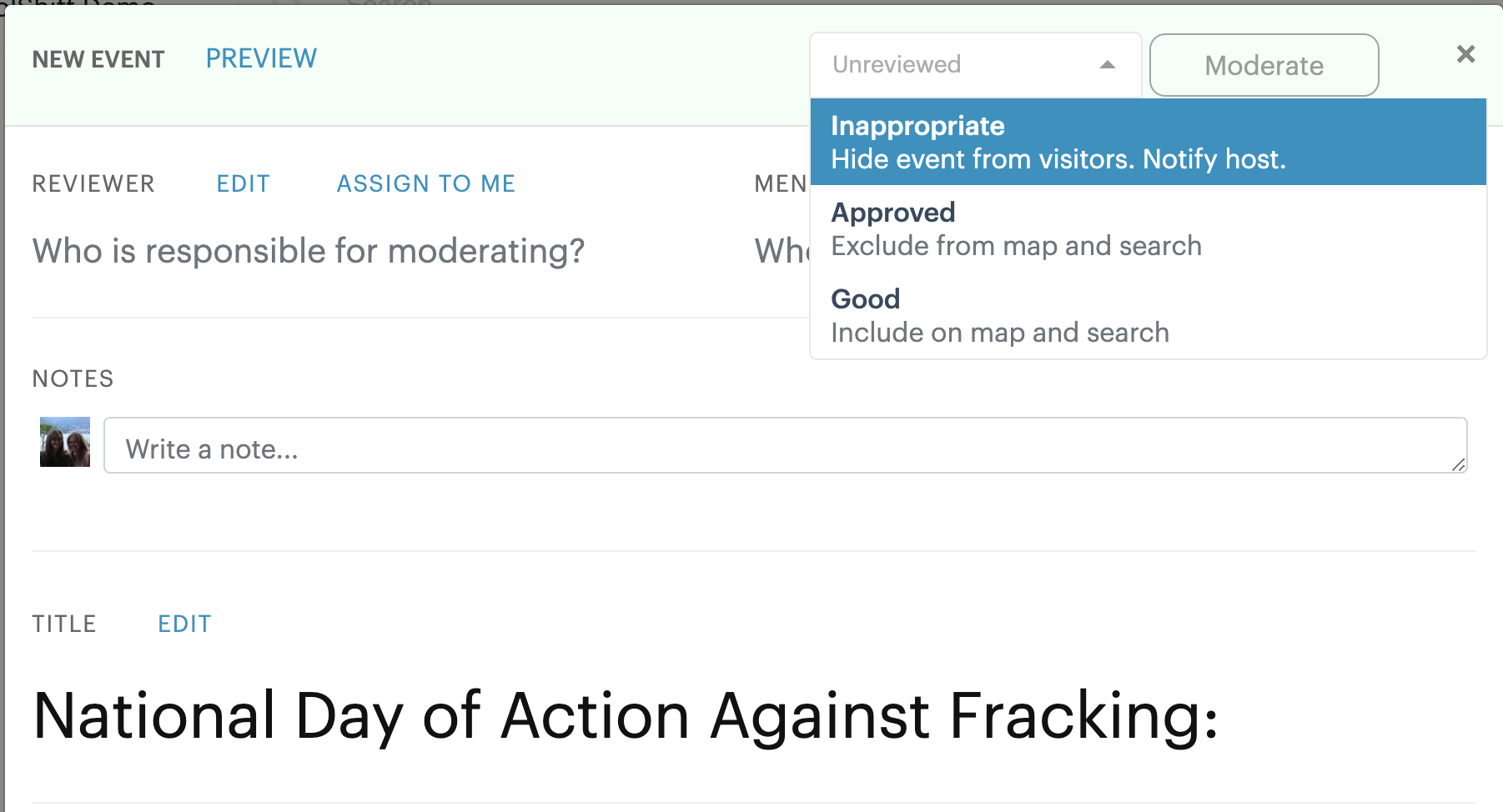 The three statuses are:
Inappropriate: the event will be hidden to everyone except admins and the host. The host is usually notified that their event was found to be inappropriate.
Approved: the event can be viewed by navigating to its direct link and all host tools are enabled, but the event is not included on the map or in any lookup page's search results.
Good: the event is fully visible, and all host tools are available. It appears on the map and can be searched for on public lookup pages.
Learn more about event moderation.
Event Attendee Experience
Users can find an event by having the direct link to the event or (depending on the event's moderation status) searching for their location on one of our public lookup pages and seeing the event in the search results. There are three types of lookup pages for events:
the local organizing map is a unified view of all events and groups. It's found at /local (organizations subject to GDPR will need to integrate with Mapbox before this page will work) and consists of a big map view with a left sidebar list of events.
the all events page, is found at /events. The events are presented in a list, with a smaller map in the left sidebar.
the calendar lookup page only includes events that are in the calendar. The events are presented in a list, with a smaller map in the left sidebar.
After finding the event they're interested in, the user will enter their contact information into the attendee form. They'll receive an immediate confirmation email after their RSVP, and we'll also send a reminder email 24 hours before the event.
If the attendee forum is enabled for the event, attendees will be able to see the forum after their RSVP is submitted. If they're not already logged in, they'll be asked to do so or to request a magic link to confirm their identity before participating.

Admin View of Events
Admins can view more information about an event and its signers from the events admin page. To see the event's admin view, go to the event page and click Admin. There are many admin options for events, and you can read more about each option in our help document. Some highlights for new admins are:
On the Details page you can see the event's Associations, which will reflect whether the event is a calendar event or belongs to a group.
The Attendees page allows admins to view the full list of attendee information, including information about attendees that is not included in the event host's tools. From here, you can also track attendee sources.
The Settings page contains various configurations for the event. Some of the more popular settings are:

The Attendee Form section allows admins to add custom attendee fields to the event RSVP form. This can be useful if you need to collect special information about attendees for this particular event (like: dietary restrictions if there will be food or shirt size if everyone will be wearing the same shirt). The custom responses will be shown to event hosts.
The Emails section allows you to override the event's thank you and reminder emails.
The Discussion Forum section allows you to disable the event's discussion forum if needed.
Learn more about admin options for events.
Event Attendees and Sources
Admins can view an event's attendees from the event > Admin > Attendees. This page includes a list of all attendees, a graph showing the sources of those attendees, and the option to export the attendees to CSV.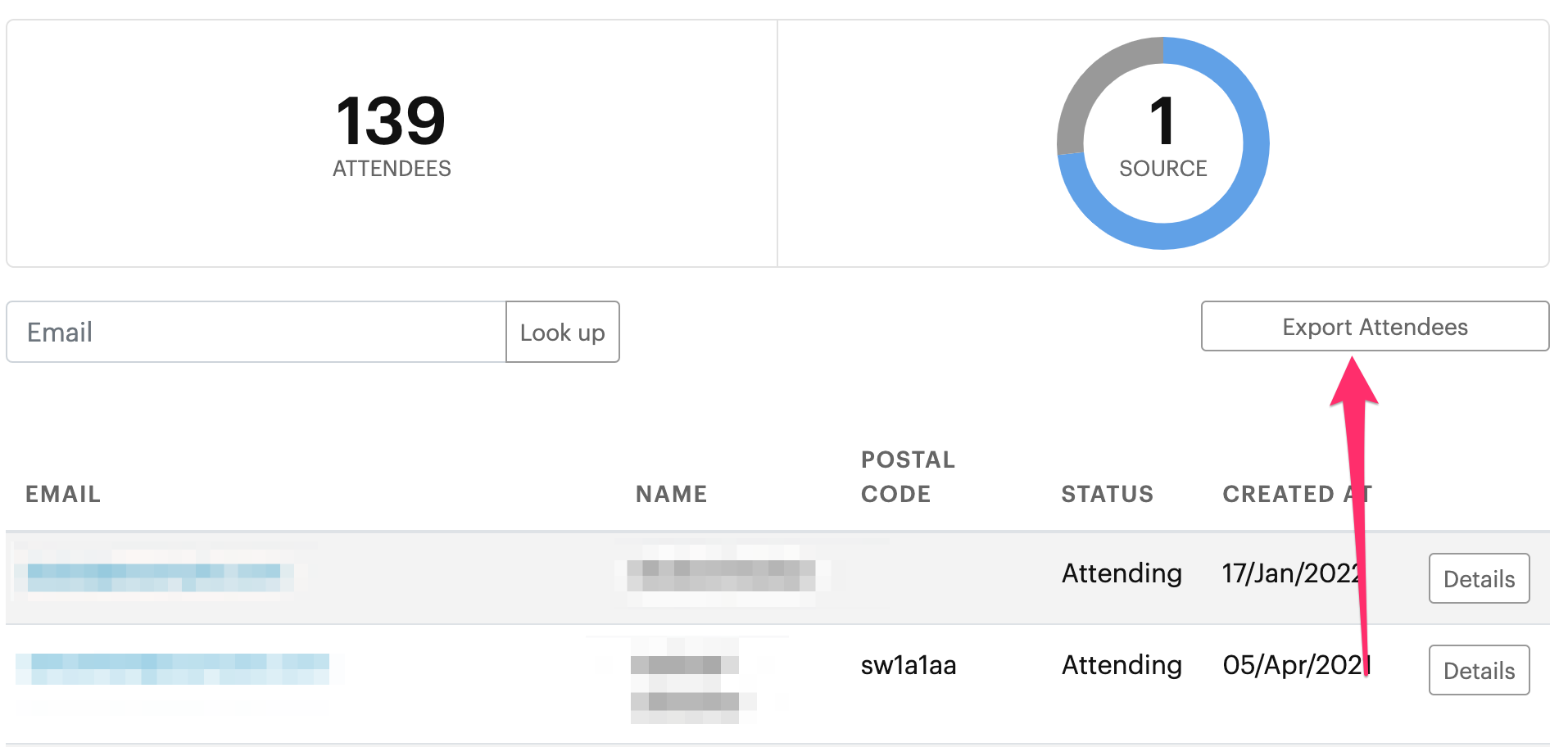 Within the platform, admins are able to track where event attendees are coming from via attendee sources. There are two ways to track activity: the source parameter and UTM parameters. Both of these options can be used via a URL parameter that's appended to an event's URL. When someone shares an event, we'll automatically update the source and utm_source parameters to match their sharing channel. Admins can also use custom sources to track other sorts of activity.
Learn more about attendee sources.
Calendars
The Calendars feature supports groupings of similar events. Often organizations use Calendars for things like:
an organization wants to organize a day of action, with events happening around the country on the same day.
an organization is planning a series of trainings and they want a lookup page that has all of the training events in one place.
an organization is working with a partner to co-sponsor a lot of different types of events. The partner wants all of their events to be shown in one place.
Calendars make it easy for admins to group these events into one place, with a single dedicated lookup page. Within the Calendar, admins can also provide custom host instructions, default event text, and customized emails.
Partnerships
The Partnerships feature allows organizations to co-sponsor events. These events have the same functionality as other events on the platform, but include information about the partner organization on the event page.
Partner admins have additional permissions on the platform, like the ability to contact all attendees of their events at once, access to the event host tools for any events in their partnership, and (optionally) the ability to export the attendees who have opted into their mailing list. ControlShift org admins have full control over the creation and configuration of partnerships, and partnerships can be a great way to grow your platform.
Learn more about Partnerships.
Wrap Up
Events can be a powerful organizing tool, both independently and in conjunction with ControlShift's petitions and groups tools. While this document should have given you a good introduction to the events features, feel free to peruse this help center for more detailed information. If you have any questions, please feel free to email us at support@controlshiftlabs.com or click to Submit a request above.
If you're interested in exploring other ControlShift features, you can choose your next pathway.