Looking for something specific? Skip ahead:
---
Introduction to ControlShift Groups
When ControlShift first began, our toolset was solely focused on petition campaigns. However, it quickly became clear that there was a need for more sustained, longer term organizing. What happens when a petition campaign ends? Where does that organizing energy and experience go? That's why we built the groups tools.
Organizations use groups in different ways, but usually groups are location based and member led. This allows a supporter who's interested in leadership to create a group in their town with like-minded supporters. This group can serve as the hub of your local organizing, as a rapid response team for new issues, and as a way for your supporters to build connections with each other.
Group Collection
Before your supporters can start creating and joining local groups, your organization will need to create a group collection. The group collection is the umbrella under which all of the groups exist. Each collection has its own lookup and admin overview pages, and the collection allows admins to configure settings that are used for each of the groups in that collection.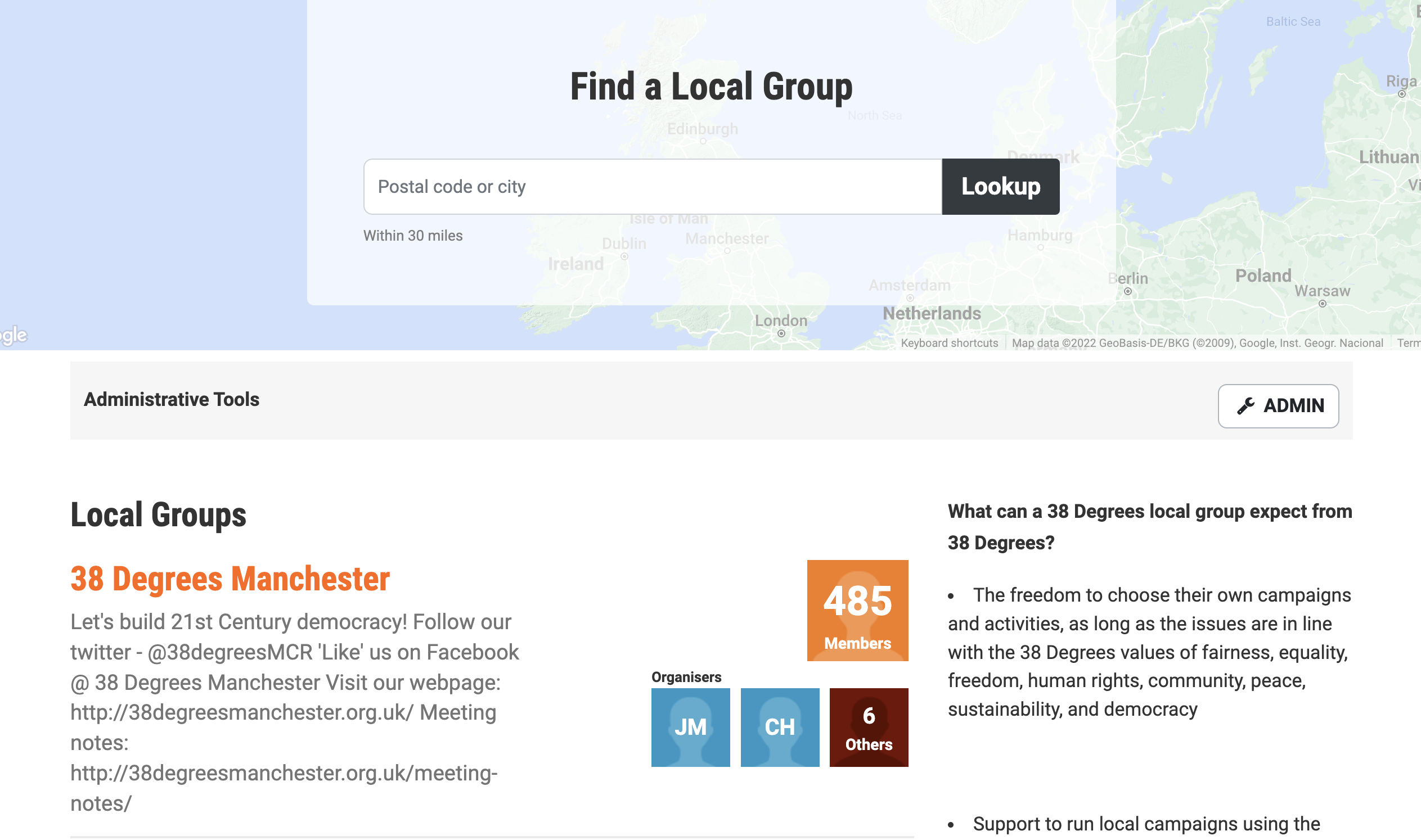 The key decision to make when setting up a new collection is the basis for this collection of groups: whether they should be virtual, geography, or location-based.
Learn more about setting up a new group collection.
Creating a New Group
Once the group collection has been created, users can go to the collection's lookup page to search for a group near them. If there are no nearby groups, we'll automatically prompt the user to create a group in their area. The user will initially see customizable text explaining what they should expect from being a group leader, and then they'll be asked to fill out a brief application form.
The form will ask them to give info about their prospective group, confirm their contact information, and respond to a customizable group organizer application question. Prospective group leaders will need to create a full user account to submit the application.
Once the user has submitted their request, it'll be sent to the moderation queue for approval by admins.
Group Moderation
Moderation is one of the main workflows for admins, and content in need of moderation will be added to the unified moderation queue in your admin tools (admin homepage > Moderation).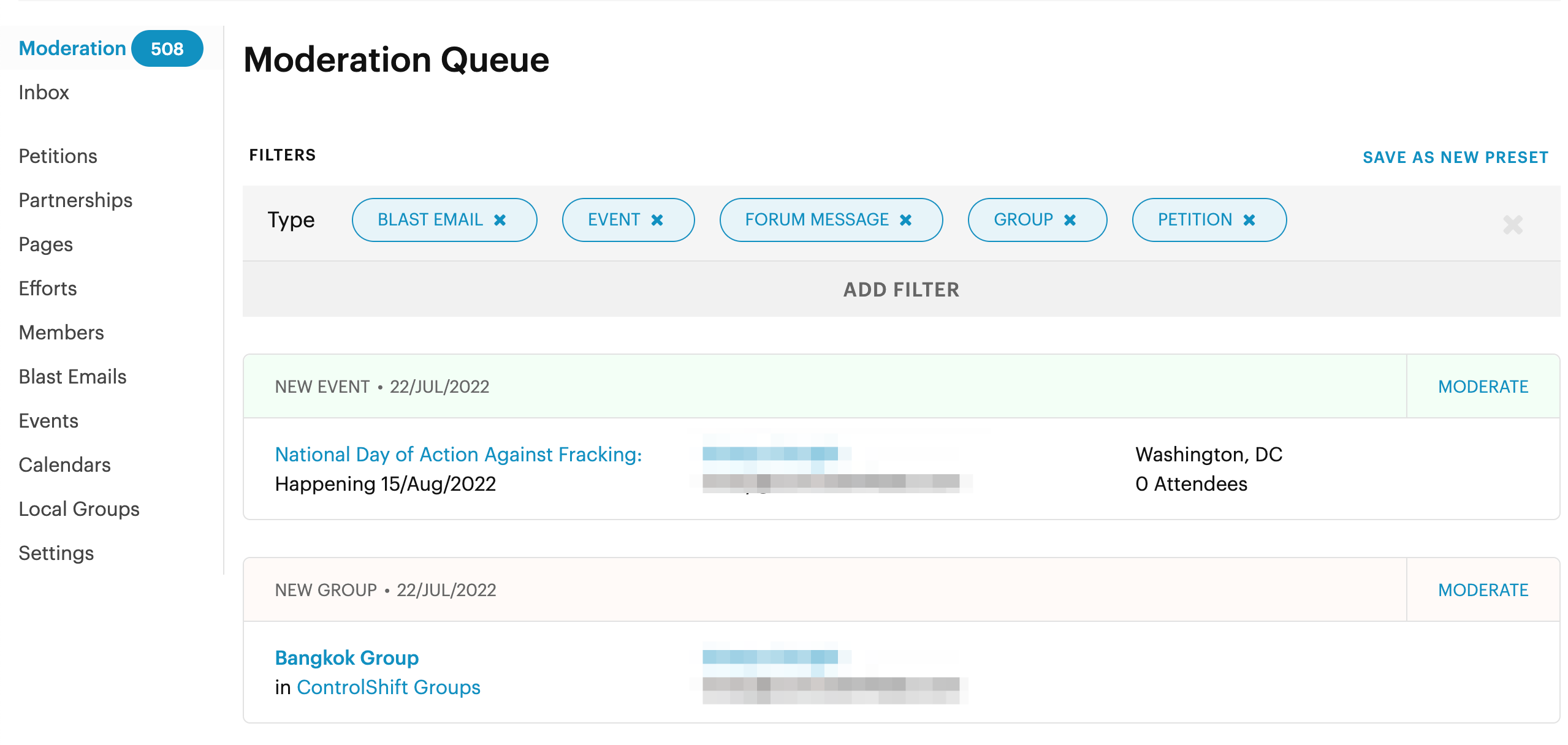 Moderators supporting the groups tools will see a few different types of group moderation tasks: new group creation requests, new organizer of an existing group requests, and forum messages in need of moderation (either because an organizer flagged the message as inappropriate or because the user who submitted the message as pre-moderation of messages enabled).
To get started moderating, click the Moderate button next to the task you want to work on.
For new group moderation, we'll show you the information we have about the user and the group they're interested in creating. You can then choose to either Approve or Deny the request. Approving the request will create the group, set the applicant as the leader of the group, and (usually) make the group visible and searchable on group lookup pages.
For new group organizer moderation, we'll show you information about the current group member who's interested in becoming a co-organizer of an already-created and already-approved group. You can choose to either Approve or Deny the request. Approving the request will make the user a co-organizer of the group. Denying the request means that the applicant will remain a regular member of the group.
For forum message moderation, we'll show you the comment in need of moderation and its context. You can then Approve or Remove the message. If needed, you can also enable pre-moderation for this user (so that all of their messages require approval before being posted) or remove the user from the group.
Learn more about group moderation.
Joining an Existing Group
If a user sees a group that they're interested in joining, they can click the name of the group to go to the group's "front door." This page shows an overview of the group, including its description and the events and petitions that it's cosponsoring.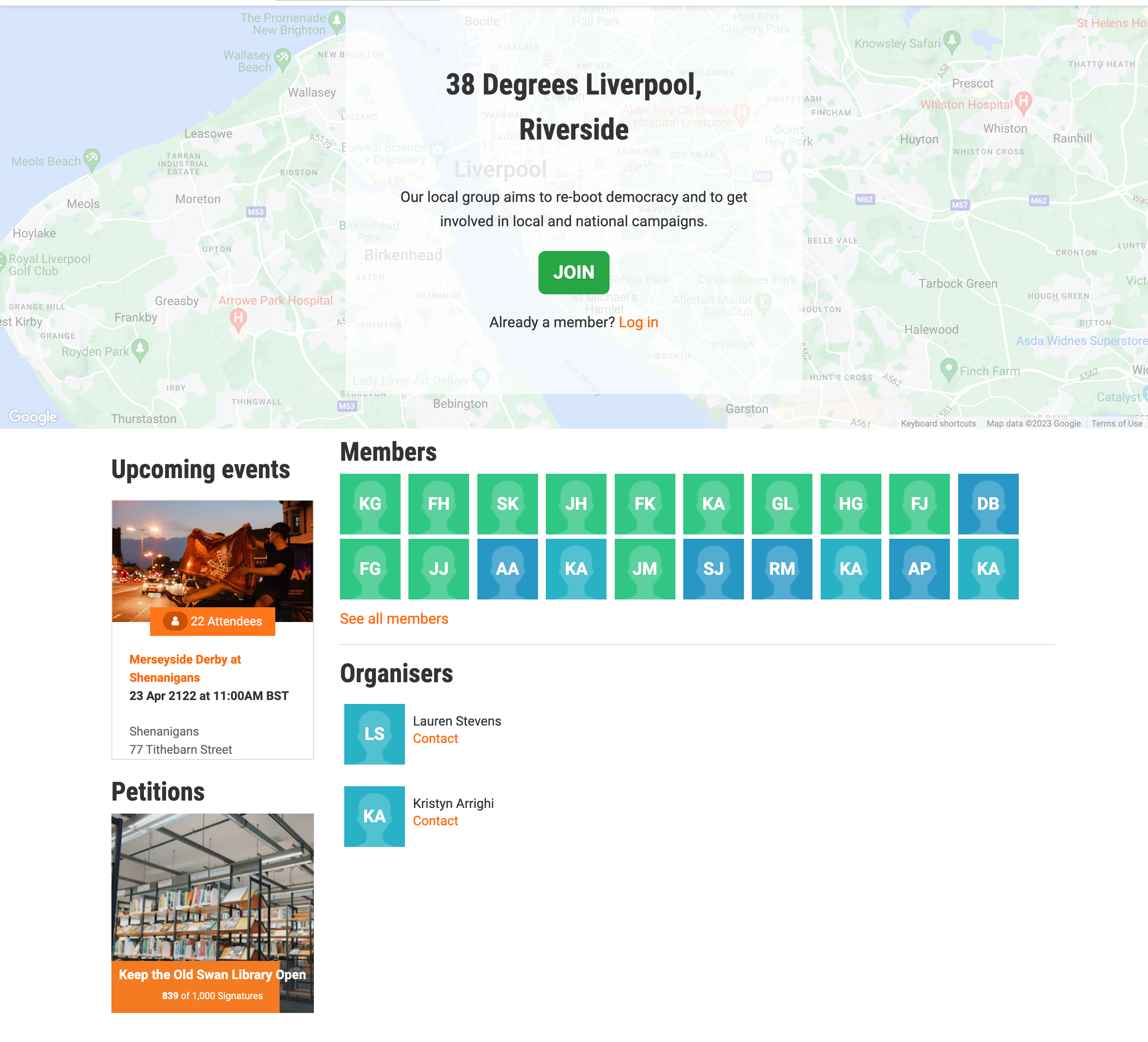 Event Image by Shaun Donnelly on Unsplash
Petition Image by Đăng Nguyễn on Unsplash
After clicking to join, the user will be prompted to log in or create an account. They'll then be asked to set their notification preferences. Once completed, they're a regular member of the group. They'll also receive a confirmation/welcome email.
All members of a group have access to its group forum. The forum is the heart of the group, and it's where discussions about new activities, issues affecting the area, and future plans can be discussed. Depending on a member's notification preference, they may receive email updates about activities in the group. Any group member can start a new discussion or join an existing one.
Group members can also see the events and petitions that the group is sponsoring in the group's sidebar. If a group member is interested in becoming an organizer, they can click to apply.
Learn more about the group member experience.
Group Organizer Tools
Group organizers are the leaders of the group. They take the lead in planning group activities, keeping the group active, and (often) liaising with organization staffers. All group organizers must submit an application and be approved before they receive their group organizer permissions, which include:
Keep the forum healthy: group organizers are the first line of defense for questionable content in a group. Organizers can flag comments as inappropriate, which will send the comment to the moderation queue for admin approval or rejection.
Host events: group organizers can create events on behalf of the group, and these events do not require moderation from admins. Once created, they can also invite the current group members to join the event. Event attendees who are not already members of the group will also be added as 'listening' members of the group after RSVP. That means that the members will receive updates about posts in the forum, but will need to create a full account before they can reply. Hosting events is a key way for groups to grow.
Sponsor petitions: group organizers can create petitions on behalf of the group, and these petitions do not require moderation from admins. Signers who are not already part of the local group will be informed that it's sponsored by a local group and will have the option to join the group. Sponsoring petitions is a key way for groups to grow.
Create resource pages: resource pages are evergreen content that's visible to all group members from the group's sidebar. These pages can be things like: contact information for the elected officials representing the group's area, a running minutes doc, expectations for group event attendees, etc. Group organizers can create as many resource pages as needed, and the pages can be updated at any time.
Moderate new organizer requests: when regular members apply to become co-organizers, existing organizers can view and moderate those requests.
Learn more about group organizers.
Admin Tools for Groups
Org admins have full visibility into groups' activities, and the easiest way to view group activities is from the group collection's admin page (org admin homepage > Local Groups > name of the collection). A few highlights for new admins:
The Local Groups, Events, and Petitions pages all allow you to see the list of all groups in the collection and all group-sponsored events and petitions across the collection.
The Forum Threads page allows admins to see all of the conversations that are happening across all groups. From this page, admins can also draft a Broadcast Post. Broadcast posts are posts from admins that are added to all groups' forums. These messages appear like other posts on a group page and group members can interact with them.
Learn more about admin management of groups.
Wrap Up
Groups can be an exciting and powerful organizing opportunity for members, and can help organizations provide a space for very local organizing. While this document should have given you a good introduction to the groups features, feel free to peruse this help center for more detailed information. If you have any questions, please feel free to email us at support@controlshiftlabs.com or click to Submit a request above.
If you're interested in exploring other ControlShift features, you can choose your next pathway.