Looking for something specific? Skip ahead:
We also have a help document that you can share with staff at a partner organization.
---
Definitions
Before we dive in to partnerships, a quick naming note/guide for this document. Within this document, we'll be taking a lot about two different types of user accounts: CSL org admins and partner admins.
People who have full administrative access to ControlShift, people who are members of a ControlShift team, and likely you, since you're reading this document, are considered org admins. Elsewhere in this help center we refer to those users as org admins or just admins. However, within this document, we'll explicitly call them "CSL org admins" meaning that they're affiliated with the ControlShift-using organization. The pages that only they're able to see – that are not visible to members of the public – are considered admin pages (or org admin pages). This includes the partnership's org admin page (org admin homepage > Partnerships > Name of the partnership) where the partnership is created and settings are configured.
Within partnerships, CSL org admins can invite staff members at a partner organization to have advanced (but still limited) privileges on the platform. These users are partner admins. They don't have the same level of access as CSL org admins, but have more access than normal petition creators/event hosts. The tools that they're able to use, which are not accessible to members of the public, are the partner's management tools. These tools are included in a partner-admin-only tool bar on an otherwise visible-to-the-public partnership hub page.
Introduction
ControlShift's partnerships feature allows your organization to partner with like-minded groups to work together on petition campaigns, cosponsor events, and grow your respective lists. The petitions and events created in partnerships are largely the same as other petitions and events on the platform, but the partnerships feature allows you to easily share user data with other organizations.
Recruiting and building partner relationships can be a great way to grow your platform and find new supporters. Working in collaboration with other organizations shows the broad base of support behind your campaigns. It can also be useful for finding new ways to talk about campaign issues and can open up new ways of organizing for a cause.
For both new and longtime organizations, partnership petitions and events can also provide valuable examples for case studies and storytelling. Because the events and petitions run by partner organizations are often better written and planned than the average campaign, they can be used when teaching other supporters how to campaign well. Often partner organizations also have an existing list of supporters – this list can also be a useful avenue to recruit new leaders.
Partnerships are always created by CSL org admins – it's up to the CSL customer organization to decide who they want to work with and how that relationship should be structured. When you've decided to collaborate with another organization, the first step is to create their partnership.
Initial Setup
To create a new partnership, go to the admin homepage, choose Partnerships and click New Partnership. The Title and Introduction are public-facing and will appear on the partnership's hub page, which also displays all of the petitions and events the partner is collaborating on.
Click Save and the partnership will be created. You'll be automatically brought to the partnership's admin page.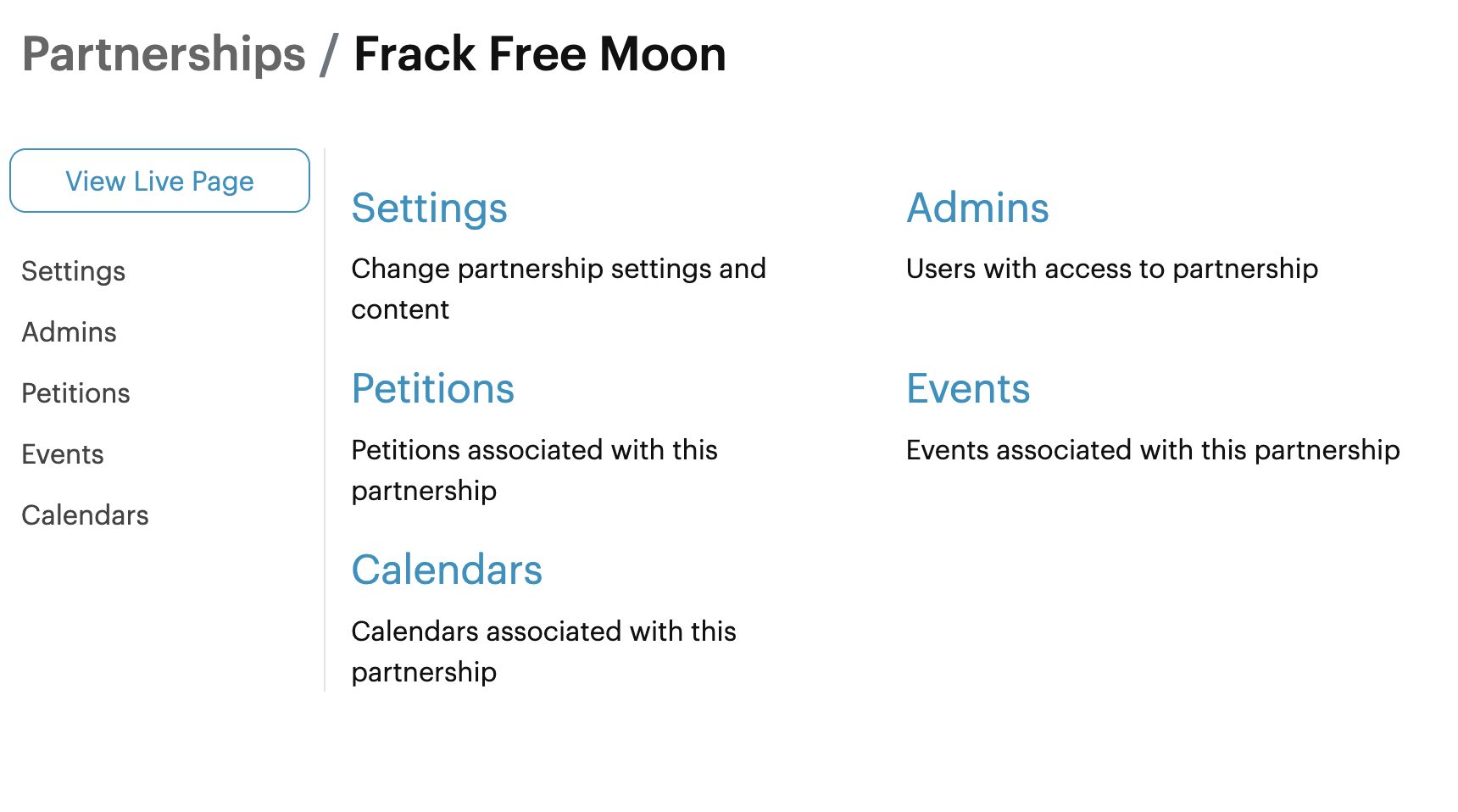 This page, which is also accessible by going to the admin homepage > Partnerships > name of the partnership > Admin, is where you can update the partnership's settings; view, add, or remove the petitions or events associated with the partnership; and invite partner admins.
Tip: While the partnership is technically created at this point, we recommend configuring additional settings before running campaigns with this partner.
Disclaimers and List Sharing
One of the key settings for partnerships is the decision about if and how to share signature and attendee data with the partner organization. Each partnership's list sharing settings are determined by CSL org admins and the partner organization cannot change those settings.
When deciding sharing settings, the key questions are:
Should the partner have any access to the signature and attendee data generated on their petitions and events?
If the partner will have access to the data, should they have access to everyone who signs or RSVPS to their petitions and events or only those users who specifically opt-in to receive updates?
When deciding what rules you want to use for sharing data with a particular partner, we encourage organizations to think about how trustworthy the partner organization is in terms of using a member's data, consider any privacy regulations you are subject to, and seek legal advice if necessary.
To update a partnership's signature sharing settings, go to the admin homepage > Partnerships > name of the partner > Admin > Settings > Data Sharing.
Please note: only CSL org admins can update a partnership's data sharing settings.
If you don't want to share any signature or event data with a partner, you won't need to set up signature sharing settings. Instead, you'll either want to disable data exports and/or not invite any organization staff to be partner admins.
If you want to share all signatures and attendees with the partner organization, then we suggest that you include a Disclaimer explaining that by taking action on the partner's petitions or events, the user's data will be shared with the partner. The Signature and RSVP Disclaimers will be shown below the sign and RSVP buttons on petition and event pages. These disclaimers will replace any existing disclaimers that your organizations shows by default on petition or event pages (except the captcha disclaimers). The PDF Disclaimers will be shown on the offline signatures and offline attendees forms.
If you want to allow users to opt into or out of the partner's mailing list, you can configure either a pre-checked checkbox (opt-out checkbox) or an unchecked checkbox (opt-in checkbox). To do so, check the Display Opt-In option in the partnership's Settings > Data Sharing. Once checked, you can add the Opt-in Label text, which will be shown to users on the signature/RSVP form. The Default value for Opt-In allows you to choose whether the checkbox should be pre-checked or unchecked. (If you're using an opt-in/opt-out checkbox, you may also be interested in the partnership promoted petition or event feature.) Please note, unlike the disclaimer setting, using an opt-in checkbox will not affect any other checkboxes your organization may be using. This means that if your organization is already using an email communications opt-in/opt-out for your communications , the signature/RSVP form will have two opt-ins: one to opt into your organization's mailing list and another to opt into the partner's list.
It's also possible to set both an opt-in checkbox and a disclaimer. Some organizations will use this configuration to allow users to opt in/out of the partner's mailing list while providing more information about the partner and their privacy policy in the disclaimer.
Regardless of what opt-in type you choose, we strongly recommend informing users if their information is being shared with a partner organization.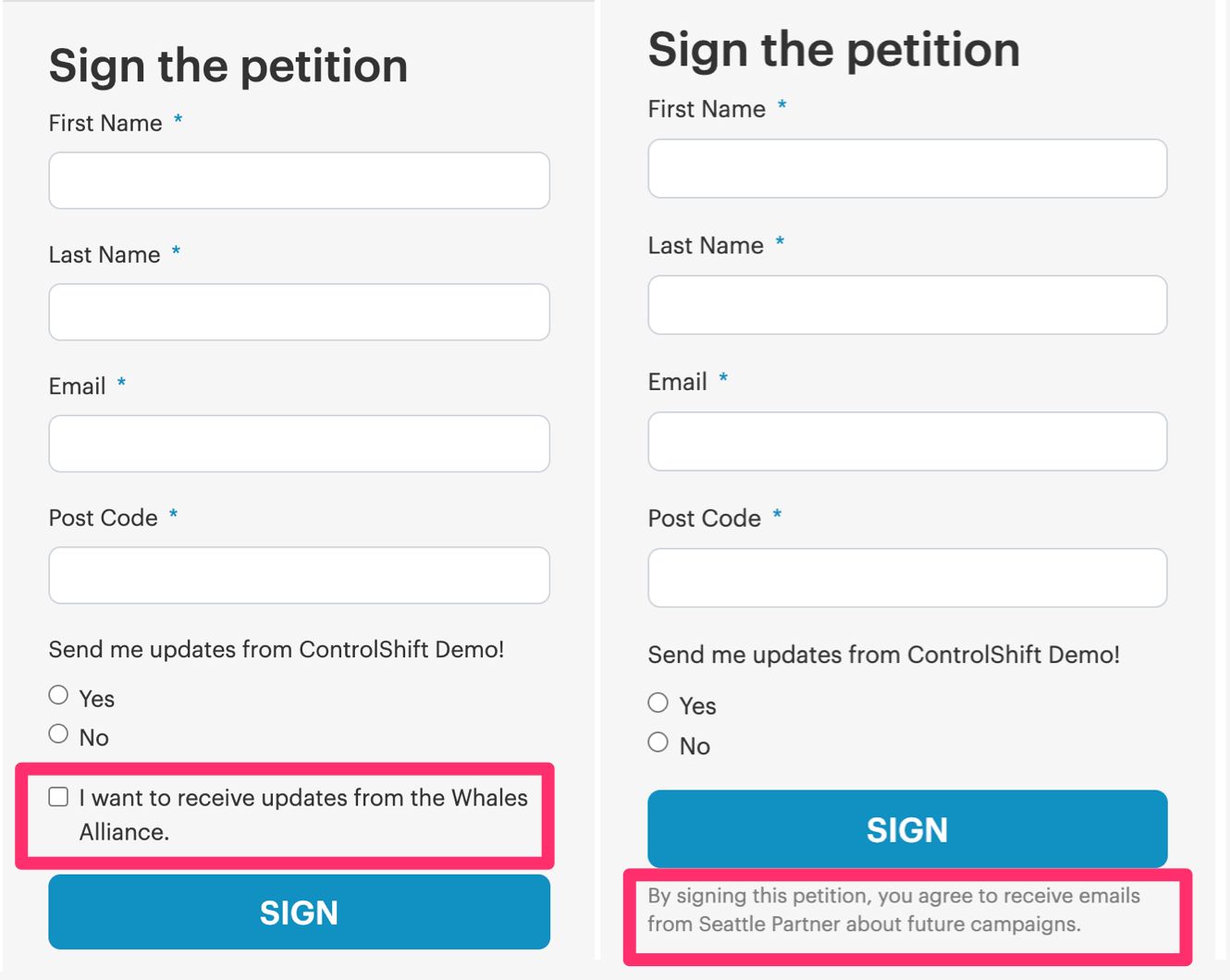 In addition to the disclaimers shown on the webforms, it's also possible to set a PDF signature disclaimer and a PDF RSVP disclaimer, which are used when the petition creator or event host of a partner-associated petition or event collects signatures or RSVPs offline. Setting a separate disclaimer for PDFs can be useful if you've included linked text in your partner webform disclaimers. If you do not enter a specific disclaimer for a partnership, we will use any default platform disclaimers.
Exporting Member Data
You can also decide whether or not to allow partner admins to download signer and attendee information for people who have opted into their mailing list (or who have been automatically added to their mailing list if no opt-in is shown). If export permissions are granted, partner admins can export the supporters who have been added to their mailing list from the partner's management tools on the partnership's hub page.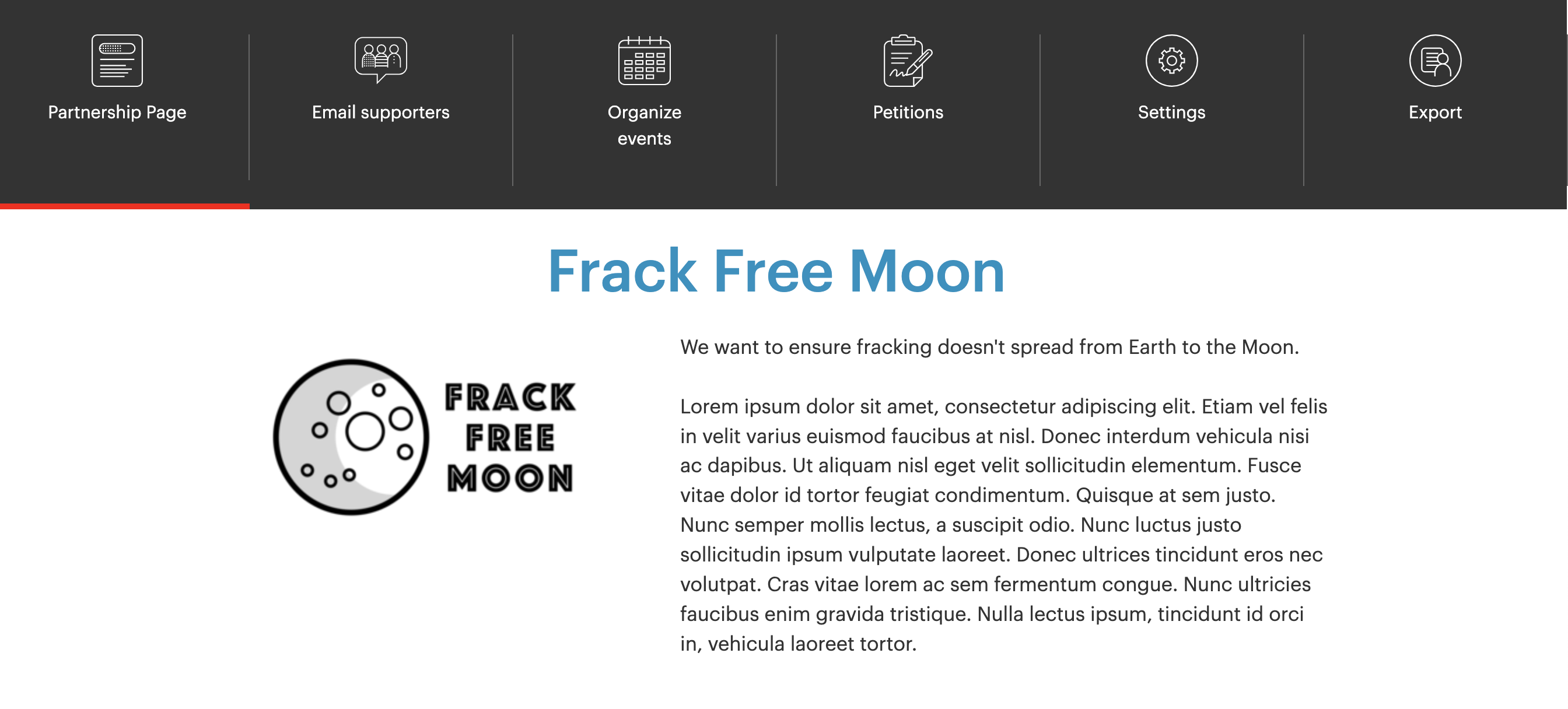 If you want to prevent partner admins from exporting a list of supporters, you can do so by unchecking the box labeled Allow partner admins to download petition signers. Unchecking this option will prevent partner admins from exporting a CSV of their supporters from the platform.
Additional Partnership Settings
These additional partnership setting are available by going to the partnership's admin page (org admin homepage > Partnerships > name of the partnership > Admin) and clicking Settings.
Basics
In this section you can update the partnership's title, description, and logo image. You can also add external links for the partner's main site and social media pages.
If you've added a logo for the partnership, you can choose to Display image on petitions and events. By default petitions and events that are associated with a partnership will include the partner's name on petition signature and event RSVP pages. On these pages, the partner's name will be displayed as a link that directs people to the partner's hub page. The Display image on petitions and events setting allows you to change this behavior – instead of displaying the name of the partnership, we'll show the image that you've chosen for them (usually a logo). This image will also be linked and will also direct people to the partner's hub page.

By default, we display a new campaign button on the partnership's hub page. If you want to remove that button and limit the petitions created under a partnership, check the Hide start new petition button checkbox. Keep in mind that while the new campaign button is included on the partnership's hub page, anyone – not just partner and CSL org admins – can create a petition under the partnership. However, only petitions that have been moderated to good or above by CSL org admins will be shown on the hub page. Also, if you need to remove an already-created campaign from a partnership, that's possible via the partnership's and petition's admin tools.
Even when the new campaign button is removed from the hub page, a new campaign button will still be available in the partner's management tools and people with a direct URL (which is the URL of the partnership's hub page /petitions/new) will still be able to start a petition under that partnership.
Finally, in this section you can also assign a theme to the partnership. Themes are used to control the site's branding – fonts, colors, logos, and links. If you assign a special theme to the partnership, we'll use that theme for the partner hub page and any single-partner petitions and events included in that partnership. Learn more about themes.
Email Sender
Within the partnerships feature, you can also designate a different Blast Email Reply-to Address and Blast Email From and Reply-to Name that will be used when a partner admin drafts an email to all of their supporters from the partner's management tools. This is often the name of the partner organization and their main organizational email address (e.g. info@partner.org). If these options are not set, we'll use the email writer's name and your main contact email address for these emails.
Please note: these settings will not affect emails sent by partner admins via the petition creator's or event host's email supporters page.
Email Content
Finally, you can override the emails that are sent to users when they sign or share petitions in the partnership. The Thanks for signing petition email and Thank Signer Forward to Friends Email are sent together when someone signs a petition. The Share By Email body text is used when a site visitor or signers clicks the share by email buttons on the petition page.
Default Partnership Settings
If your organization is partnering with many different organizations, you may wish to configure default privacy and list sharing settings for newly-created partnerships. To view or update your organization's default settings for newly-created partnerships, go to the admin homepage > Settings > Options > Partnerships.
Please note: changes made to default settings will not affect existing partnerships, only future newly-created partnerships.
Inviting Partner Admins
Once a partnership has been created, you can begin inviting partner staff members who will have admin privileges over the partnership. To invite partner staff members to the platform, go to the partnership's admin page (org admin homepage > Partnerships > name of the partner > Admins. From here, enter the user's email address, and click Send Invitation.
[If you're following the New CSL Admin tutorial, we're going to look at efforts next.]