Be sure to use Google Tag Manager securely

If you're subject to the EU GDPR, you'll need to evaluate the compliance of Google Tag Manager separately from your Data Processing Agreement with us. Google Tag Manager is not an authorized GDPR subprocessor under our agreement with you.

Often when customers add analytics or advertising tracking, they want to track everything that happens throughout ControlShift. However, there are some cases – when working with partner organizations, for example – where an organization might be interested in adding a specific tracking code to one page only.
There are many ways you might achieve this result but Google Tag Manager triggers is one solution that can be a powerful way to conditionally use GTM tags conditionally only on certain URL patterns.
To get started you'll first need to create or log into a Google Tag Manager account.
Then, you'll need to create a trigger that's tied to the one page you're interested in tracking. You'll likely want this new trigger to be tied to the Page View type and associated with the URL of the page you want to track.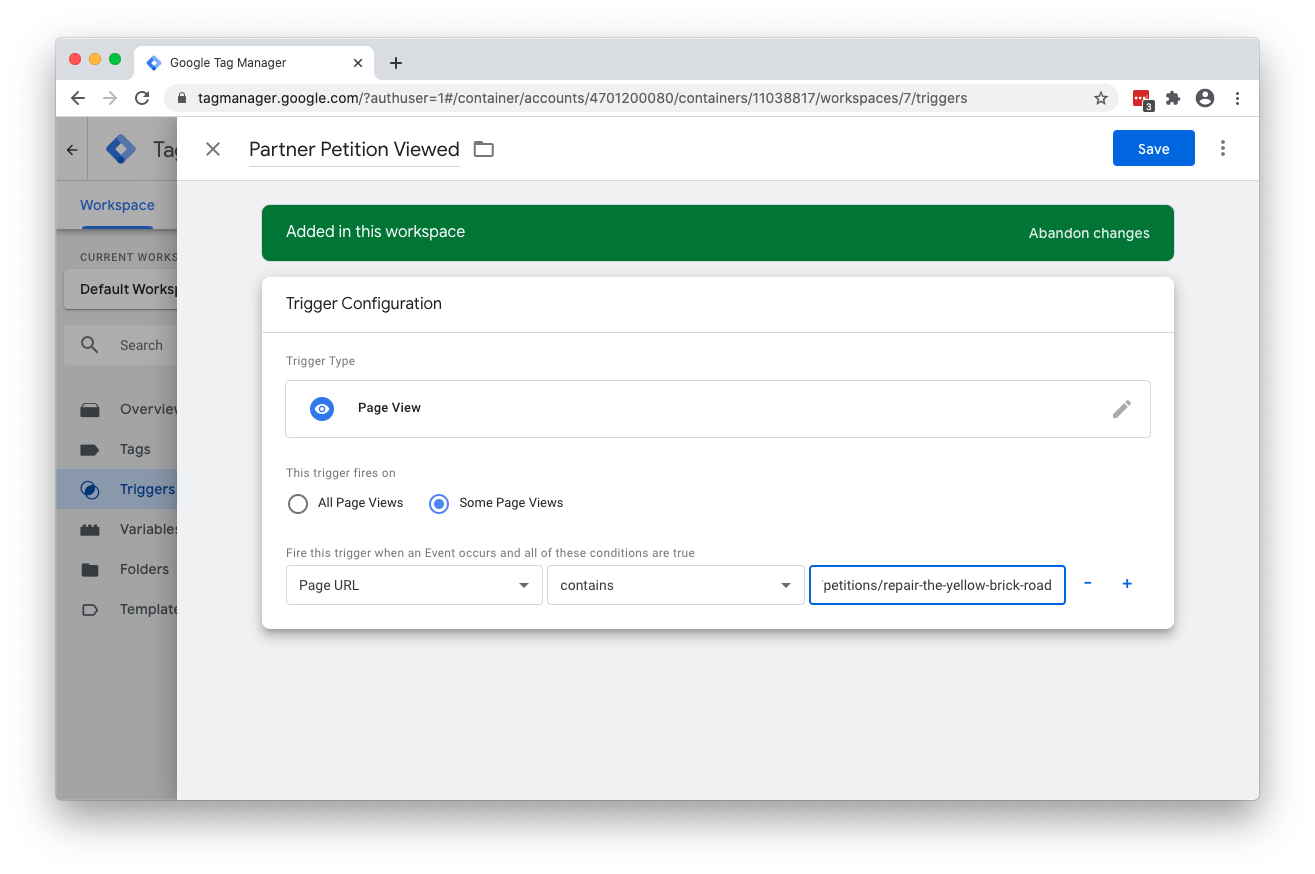 Google has published a help document that has more information about setting up triggers.
Note: When setting the URL rule, you'll likely want to choose "contains" not "equals" so that page views with source codes are still included.
Once you've created the trigger, you'll need to create the tag that's loaded when that trigger is fired. If you're using an analytics or advertising tool with pre-built tags that are already included in GTM, choose the appropriate tag from the list. Otherwise, choose the Custom HTML option and enter your tracking code.
This help document from Google has more information about setting up Tags. (If you're interested in using a Facebook pixel for tracking activity on the page, they've release more information about setting up your pixel through GTM.
Once you've added the tag, associate it with your newly-created trigger. Then Save and Publish your new GTM version.
If needed, you can confirm the tag is firing in the situations you intended using Google's tag manager Tag Assistant extension.

Triggering tags based on the URL is just one of many options available using Google Tag Manager. You can also trigger tags based on regular or CSS expressions, patterns of user behavior, or custom analytics events for action completions, if you'd like to only have an advertising tag trigger for petition creators or action takers.