Please note: a Facebook app integration is required to enable the Facebook Messenger sharing option. You can add information about your organization's existing Facebook app to Settings > Integrations > Facebook. If your organization does not have a Facebook app, please email support@controlshiftlabs.com.
Be sure to use Facebook securely

If you're subject to the EU GDPR, you'll need to evaluate the compliance of Facebook separately from your Data Processing Agreement with us. Facebook is not an authorized GDPR subprocessor under our agreement with you.
---
Within ControlShift, admins can choose to include Facebook Messenger among the social share options available to petition signers and event attendees.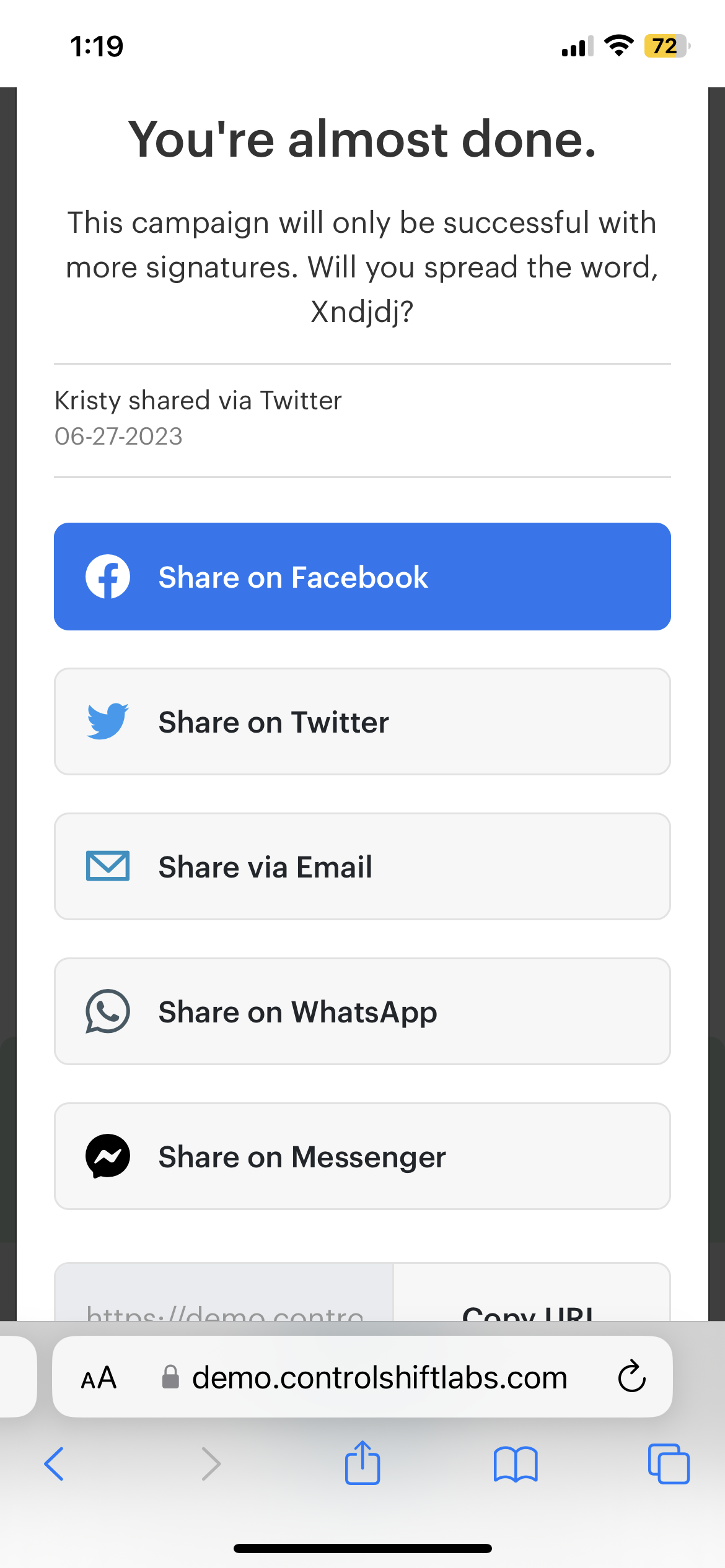 To enable the Facebook Messenger sharing option, go to the org admin homepage > Settings > Social Media > Sharing Channels, choose Facebook Messenger in the dropdown, and click to Add.
Once the Facebook Messenger option is added, mobile users will see the Facebook Messenger option in the social share block at the bottom of petition and event pages and in the post-signing and post-RSVP share prompt popups.
Please note: users will only see the Facebook Messenger option when they're viewing the petition or event on mobile-sized screens. If you want to test the Facebook Messenger configuration, you'll need to test it on mobile.

Also, please keep in mind that the Facebook Messenger button requires the user to have the Facebook Messenger app installed on their device. This is a technical requirement of the Facebook Messenger platform. If you're testing the Facebook Messenger share, please ensure that the Facebook Messenger app is installed on your device.
Whenever a petition or event is shared using the Facebook Messenger button, we'll append a source parameter (messenger-share-button) source and utm_source parameter (messenger) to the end of the URL. When the message's recipient clicks the link and signs the petition or RSVPs to the event, they'll be tagged with those source codes. If needed, you can override the utm_source parameter for the Facebook Messenger share button by returning to Settings > Social Media and clicking to edit (

) next to Facebook Messenger.