The text in this article may include ControlShift's interpretation of the GDPR and/or interpretations we've heard from other organizations. This article should not be considered legal advice. Please seek independent legal counsel to ensure your compliance with the new regulations.


---
Background
While the GDPR doesn't have specific guidelines for email unsubscribes, Article 7 does say that when processing a user's data: "It shall be as easy to withdraw as to give consent." For email communications, this would include allowing users to unsubscribe from emails. 
Please note that depending on your location, communications to members may be governed by an array of national and/or international laws. Therefore, the options presented in this help document are not specific to GDPR.


Unsubscribes in ControlShift
Unsubscribes have always been a part of the ControlShift toolset and we've not made many changes to prepare for GDPR.
When thinking about ControlShift's unsubscribe process, and any GDPR implications, it's important to remember that within ControlShift, each petition is its own mailing list. This means that, by default, if a user signed and was subscribed to three petitions and then unsubscribes from one of them, they'll still be subscribed to the other two. 
Nevertheless, there are a few ways to process unsubscribes in ControlShift.


For Members
When users receive emails from the ControlShift platform, they're always given the option of unsubscribing. If they click the unsubscribe link in the email footer, they'll be able to unsubscribe from that campaign's updates. Note that, by default, unsubscribing from one campaign does not affect the subscriptions status for the other campaigns they may have signed. 
Optionally, your organization can also enable Global Unsubscribes, which will allow your members to unsubscribe from all ControlShift updates in one step. 

You can learn more about Global Unsubscribes here: https://controlshiftlabs.zendesk.com/hc/en-us/articles/206212968-Global-Unsubscribes. We'd encourage any organization interested in using global unsubscribes to first ensure that they have a process in place to sync a global unsubscribe requests to their main list. If your organization would like to enable global unsubscribes, please send us a support email.

For Admins
Admins can also unsubscribe members through the admin tools.
To unsubscribe users from a single petition, go to the petition > Admin > Signatures > search for the user's email address > Unsubscribe. 


To unsubscribe a user from all updates, go to the admin homepage > People > search for the user's email address > go to their member page > Settings > Unsubscribe From All.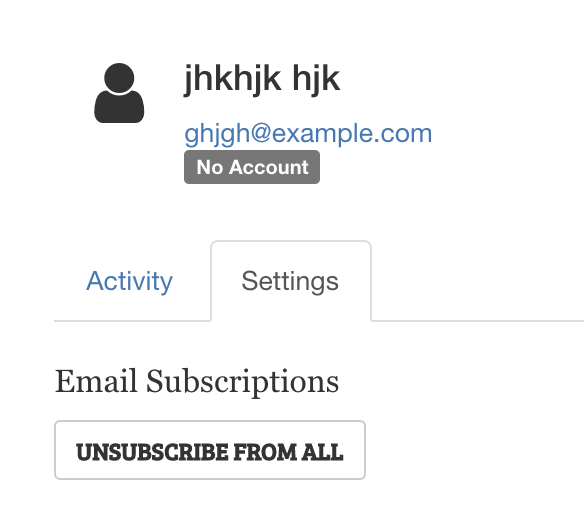 Important Consideration
While this article explains how to unsubscribe a user in ControlShift, it's likely that any given user will be subscribed to different mailing lists outside of ControlShift. When a user requests that they be unsubscribed, they should likely be unsubscribed from all mailing lists. Therefore, your organization may need to consider workflows that will ensure a user's unsubscribe request is processed correctly. 
---
The GDPR has numerous requirements and hefty fines for non-compliance. The information included here is not legal advice, and we strongly recommend that all organizations using ControlShift seek legal counsel to ensure that they comply with the GDPR and all relevant laws.