The Decision Makers tools provide more structured information about the targets of campaigns and allow the organization, campaign creators, and supporters to engage these decision makers.
When enabled, the decision maker communications tools allow the organization to notify the decision maker about the campaign's creation and send regular updates about the campaign's progress. These notifications can contain signature count updates and reasons for signing or they can include messages from signers to the decision maker. Regardless of the type of update, the decision maker is always able to respond to the campaign creator.
---
Here's a quick introduction to Decision Makers:
Q: How are Decision Makers different than the current 'to' field of petitions?
A: Decision Makers are more structured than the free-form to/whom field. Specifically, Decision Makers generally have both a name and specific location. The decision maker record can also include the decision maker's formal title, phone number, and email address.
Q: What are the benefits of using Decision Makers?
A: There are a few reasons why you may want to associate a petition with a structured Decision Maker instead of a free-form petition target. First, if you'd like to notify the petition's target that there's a campaign asking them to take action, you'll need to use Decision Makers.
Secondly, if you want to collect messages to the decision maker instead of just collecting signatures, you'll also need to use decision makers.
Regardless of the type of campaign you run – whether collecting signatures or collecting messages – you can ensure that the decision maker receives regular updates about the campaign. This will allow you to transform a single campaign into an ongoing conversation with the decision maker.
Additionally, the decision maker's dedicated 'target' page allows you to quickly view information about the decision maker and see all of the campaigns targeting them on your site.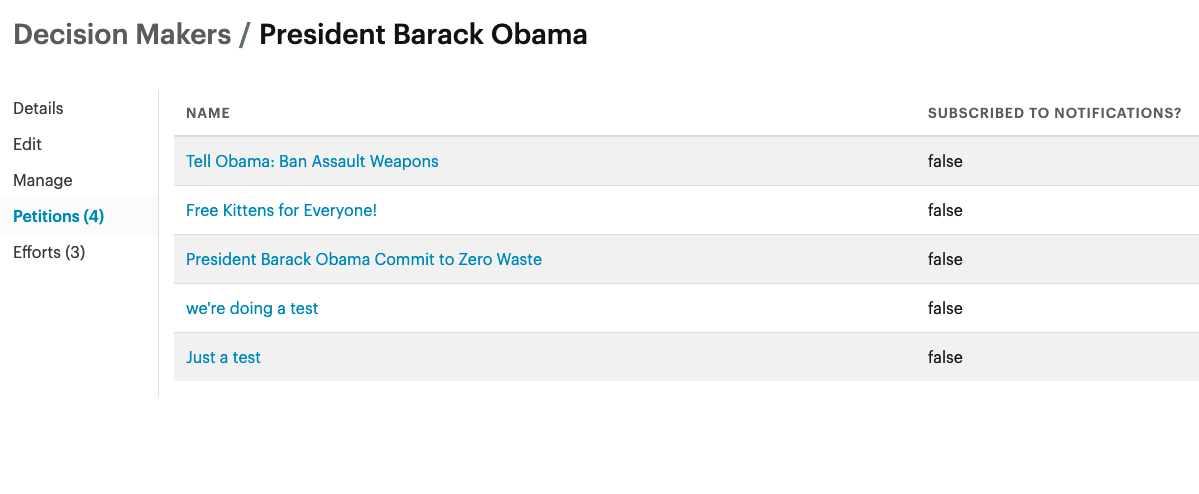 Finally, when the Decision Maker tool is used, the who field cannot be changed by petition creators.
Q: How do I add a decision maker to an existing petition?
A: Learn how to set a petition's decision maker.
Q: How do I start sending notifications to decision makers?