If you'd like to be able to collect petition signatures on an external site, please sign below.
As you've probably guessed, we've added a new feature allowing petition signature forms to be added to external sites. At the moment, this feature is only available to organization administrators. To get the iframe code for a petition, go to the petition page > Settings > Embed Petition.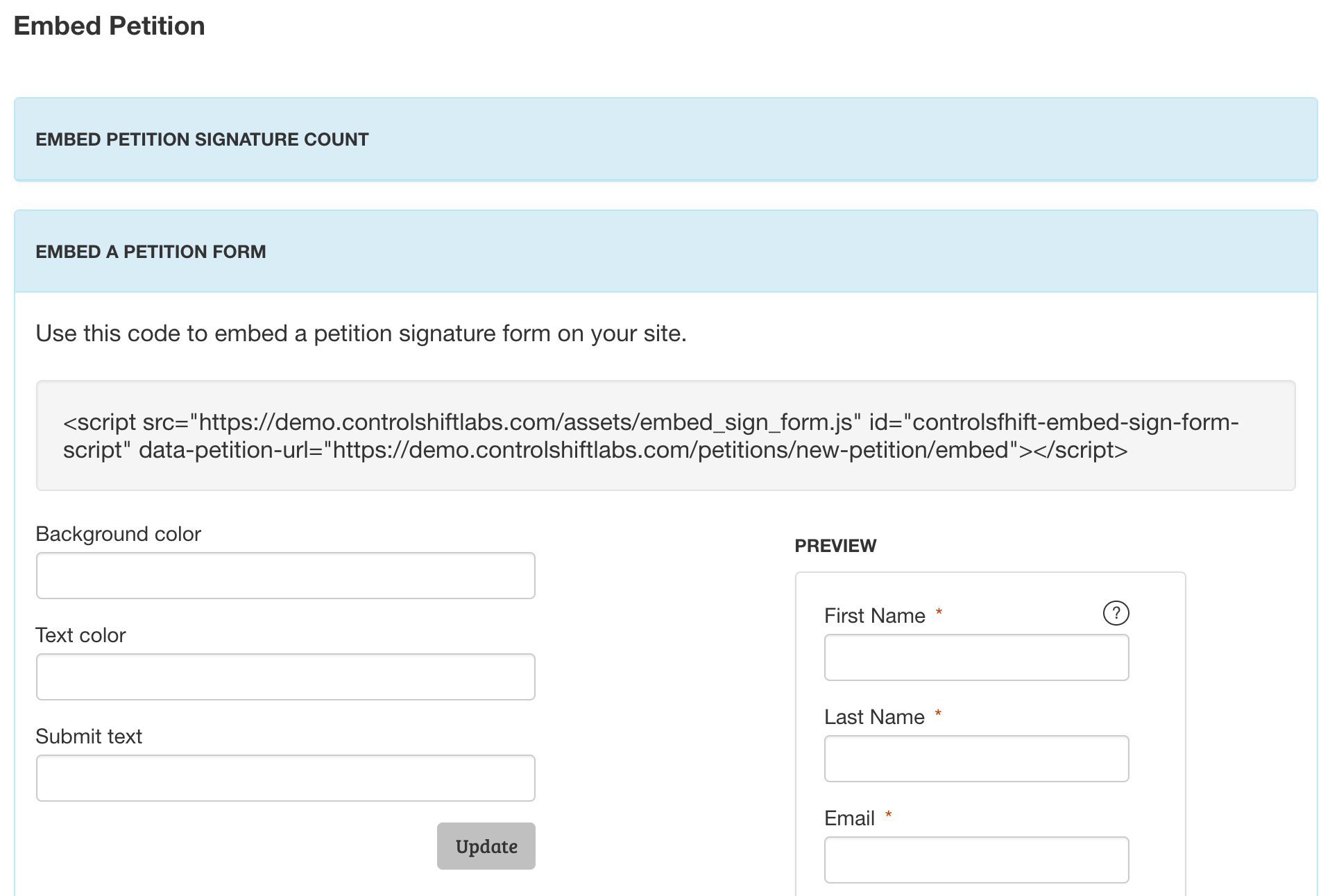 From this page, you can customize and preview the embeddable form. The Background color and Text color boxes allow you to customize the appearance of the signature form. You can enter an HTML color name (a list of supported color names is available here) or a color code (like CSL blue #23ACE7). When using a color code, be sure to include the # before the code itself.
If you want the text of the sign button to be something other than Sign, enter the text into the Submit text box.
When you're done entering your specifications, click Update and the code will be generated for you. You can then enter the iframe code onto an external site.
Embedded Forms and Source Codes
If you'd like to include a source or bucket for signatures added via the embed form, add "?source=foo" or "?bucket=bar" to the end of the petition URL (where foo and bar are the source / bucket that you'd like to use). For example, if you wanted signatures to be tagged with the source code "embed" and the bucket "parter-org", the code would look like this:
<script src="https://demo.controlshiftlabs.com/assets/embed_sign_form.js" id="controlsfhift-embed-sign-form-script" data-petition-url="https://demo.controlshiftlabs.com/petitions/repair-the-yellow-brick-road-1/embed?source=embed&bucket=partner"></script>
You can also change the height and width of the iframe by manually adding 'height="##px"' or 'width="##px"', where ## is the number of pixels you'd like the iframe to be.
Once someone clicks to sign the form, they'll be redirected to the petition's main signature page where they can share their reason for signing the petition, share on Facebook or Twitter, and email the petition to their friends.
If you have any questions, please send an email to support@controlshiftlabs.com