A step-by-step guide for users creating a new petition.
---
After choosing the Start a Campaign button on the homepage or in the header, you'll be brought to the new petition template.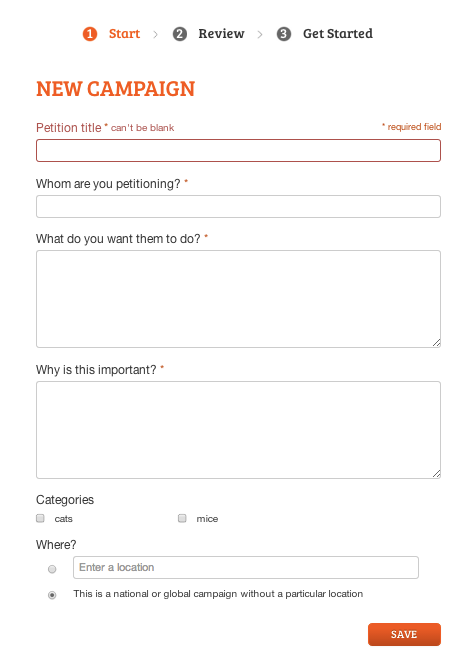 Start with a petition title – something that's short and catchy is usually best. Next, think about who is best positioned to give you what you want. That's the petition's decision maker – enter their information into the whom field. Then explain precisely what you'd like this person to do. Next, explain why the issue is important – why should someone sign your petition? 
If the categories option is enabled, choose the category that fits your petition. By adding your petition to the appropriate category, it will be easier for supporters to find your campaign. If your petition does not fit within one of the established categories, just leave the options unchecked.
Finally, if your petition addresses an issue that is specific to a local area, enter the location. If your campaign does not have a specific location, choose the national or global campaign option.
After hitting Save, you'll be asked to create an account or log in. If you have already logged in to your account, you'll be brought to the review page. Look over your petition and make sure that you've included all pertinent information. From this page, you can also upload an image for your campaign. Adding an image will help grab the attention of potential signers, make your petition look more polished, and will provide the image that is displayed when the petition is shared on social media.
Once you've made any changes, click Next and your petition will be live.

From here, you'll be able to share your campaign on social media or via email. If you close this dialogue box, you'll see the petition creator tools.

To edit your campaign, choose Edit Content and enter your updates. The Settings page allows you to configure petition settings. From here you can invite additional people to help you run your campaign, toggle your petition's visibility status, or end your campaign. 
To send a message to your supporters, click Email supporters. On this page you'll be able to draft an email to current signers. You can use this tool to provide campaign updates or to remind your supporters to keep sharing the petition.
If you'd like to take your petition offline and collect signatures in person, choose the Collect signatures on paper option. You can then print a customized form that includes columns for name, email, post/zipcode, phone number, and the option to join the organization's mailing list. Once you're done collecting signatures, return to the offline signatures page and click Enter Petition Signatures. (If you've collected signatures in a CSV, you can email those signatures to platform admins and ask them to do a bulk upload.)
As your campaign grows, you may get access to the Organise events page. This tool allows you to host campaign events and invite your supporters to attend. You may want to host a meeting to plan next steps for your campaign or you may want to hold a rally to increase your petition's visibility.
Once you're done campaigning, return to the petition page and choose Deliver petition, which allows you to download a PDF or CSV of the petition. From here you can choose to print the petition and hand deliver it or save the file and email it to the campaign's decision maker. If you have access to the campaign events tools, you can also schedule a delivery event. Get your supporters together and hand in your petition in person!
If you need help running your new campaign, get in touch with your site's admins. They're professional organizers and can help you get your campaign up and running.