Virtual events are events that are happening online. These events may be things like a national conference call covering campaign updates, a statewide training event, or a local planning meeting that's happening online. Either way, ControlShift allows you to support these types of events by creating virtual events. Virtual events are not their own class of event, which meansthat calendar, group, campaign, and standalone events can all be virtual events.

Setting up a virtual event follows the same process as other events, but instead of entering an address for the event, the host chooses the This is a virtual event with no location option instead.
Once a host has chosen the virtual event option, they'll see a prompt to choose their audience. Some events, like a national briefing call, are being hosted online because we want everyone, everywhere to join the event. If that's the type of event you're hosting, choose the national audience option and then set the event's time zone.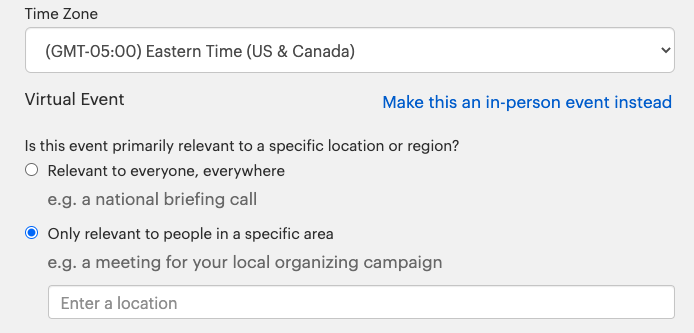 Other online events are only relevant to a smaller audience. Maybe you're hosting a statewide training, but only people from that state will be interested in attending. Alternatively, you might be hosting a meeting for your local group – this event could potentially happen in person at your local café, but it's happening online instead. In those cases, the host should choose the option designating that the event is only relevant to a local audience. Then, enter this event's audience location.
If you have web conferencing information that you'd like to make available to attendees, you can enter it now. Then continue with the rest of the event set up process. Once moderated, these events will become available to supporters. Please note that while virtual events will not be included on maps (because they have no physical address), but they will be included in the list portion of event lookup pages and in search results.