Please note: This article is a past announcement that was featured in an email blast. We keep these announcements visible, but they are not updated or maintained. This article was accurate at the time of writing, but the information, screenshots, or instructions included here may have changed. For up-to-date help, please see the appropriate articles in the main portion of this help center.
---
Currently, your site is hosted via a CNAME record that points your ControlShift site's URL to platform.controlshiftlabs.com. Because of recent updates to the platform, we need your organization to update that DNS record. The update process involves three steps, and it should take less than 10 minutes. It will require the updater(s) to have access to both the ControlShift platform and your organization's DNS manager.
How do I make this change?
To get started, go to your platform's Settings > Basics > Hostnames page. In that section, you'll see your site's domain(s) listed. Next to the domain, you'll see an Upgrade from legacy DNS Configuration button. Click the button to get started.
Please note: If your organization is already using Cloudflare and is proxying your ControlShift domain, please switch the CNAME record to DNS only before clicking the Upgrade from Legacy DNS Configuration button.
Once we've created the appropriate record in our Cloudflare account (this may take a few minutes), you'll see a modal and an updated hostnames section that shows the need to update your platform's CNAME record to point to platform.controlshift.app.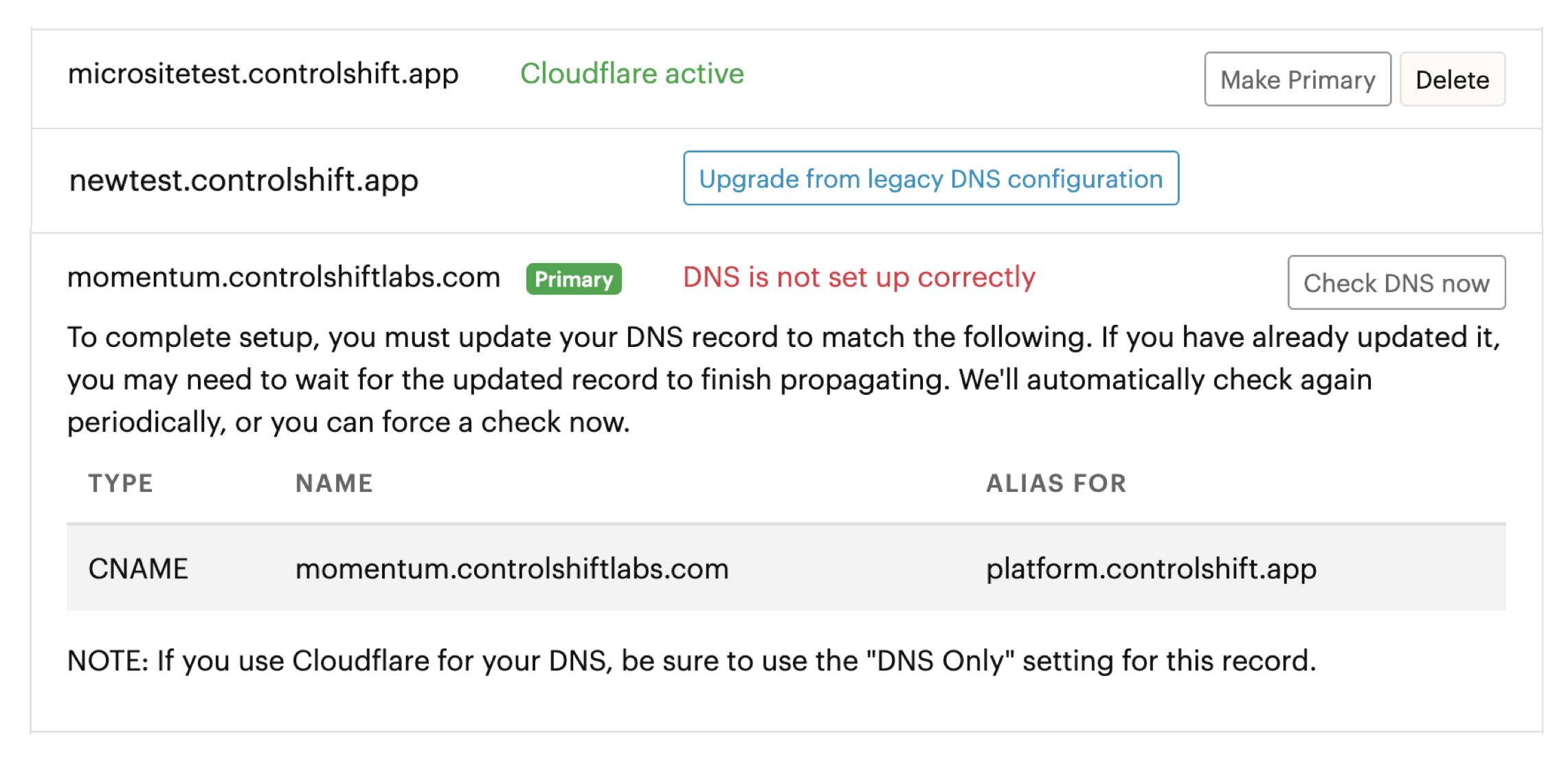 Next, go to your DNS manager and find the existing CNAME record. The current record will show the CNAME pointing to platform.controlshiftlabs.com. You'll need to edit this record to point to platform.controlshift.app instead. The process for editing this record is dependent upon your DNS provider.
Once you've made that change, return to the ControlShift Hostnames section and click Check DNS Now. We'll then attempt to confirm your DNS update.
Please note:
changes to your DNS may not take effect immediately, depending on your record's TTL. We'll continue to check for the record change every hour, or you can manually schedule a recheck if needed.

if you have multiple domains associated with your ControlShift site, you'll need to update each CNAME record individually.

if your organization is using Cloudflare for your DNS provider, please ensure that the CNAME record is set to "DNS Only" (with Cloudflare proxying disabled for your ControlShift domain) both before clicking to upgrade and after updating the CNAME record. We'll be proxying traffic from our Cloudflare account instead.
Why is this change required?
ControlShift now includes Cloudflare proxying for your ControlShift site, to protect your site from malicious traffic and help it load faster for your members. Because we're managing the Cloudflare configurations, you're able to benefit from Cloudflare's features without having to deal with the technical details.
Because your site was set up before we added Cloudflare to the platform, we need you to follow the instructions above to keep your ControlShift site operational and gain access to Cloudflare's features.
What are the benefits of

Cloudflare

?
We've long recommended Cloudflare to customers as a way of securing their platforms. Cloudflare is an industry leader in Distributed Denial of Service (DDoS) attack and malicious bot protection. Cloudflare uses sophisticated machine learning to protect sites from malicious activity, while also accelerating the delivery of page content.
What effect will this change have on supporters attempting to access the platform?
DNS changes can affect site access, but these changes should cause no interruption in your supporters' ability to use the site. The steps outlined above all happen behind the scenes, and do not change the URL that your supporters will visit to access your ControlShift site. Users will still be able to access your ControlShift site throughout the transition period.
What if I'm not sure how to make these DNS changes and/or I have questions about this change?
You can reply here (or send an email to support@controlshiftlabs.com) if you have any questions. We're also happy to screenshare and walk you through the DNS update if needed.