ControlShift petitions include a signature counter that allows site visitors to quickly see how many signatures a petition has received.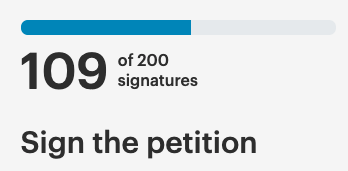 However, if you've just created a petition you may be wondering why your new petition doesn't have a progress bar. In most cases, the reason the progress bar isn't being displayed is because we only display the bar once the petition receives five signatures.
Once the five signature threshold is reached, the progress bar will read 5 of 100 signatures. We automatically update the signature goal as new thresholds are reached, so you don't need to specify a signature goal. (Unless you want to.)
If your petition already has five signatures and the progress bar is still not displayed, it's probably because the signature bar has been turned off. You can turn it back on from the petition's admin settings page.