To see examples of the data included in webhook payloads, please see our developer site: developers.controlshiftlabs.com.
We've exposed a number of new webhooks to help you better use your data.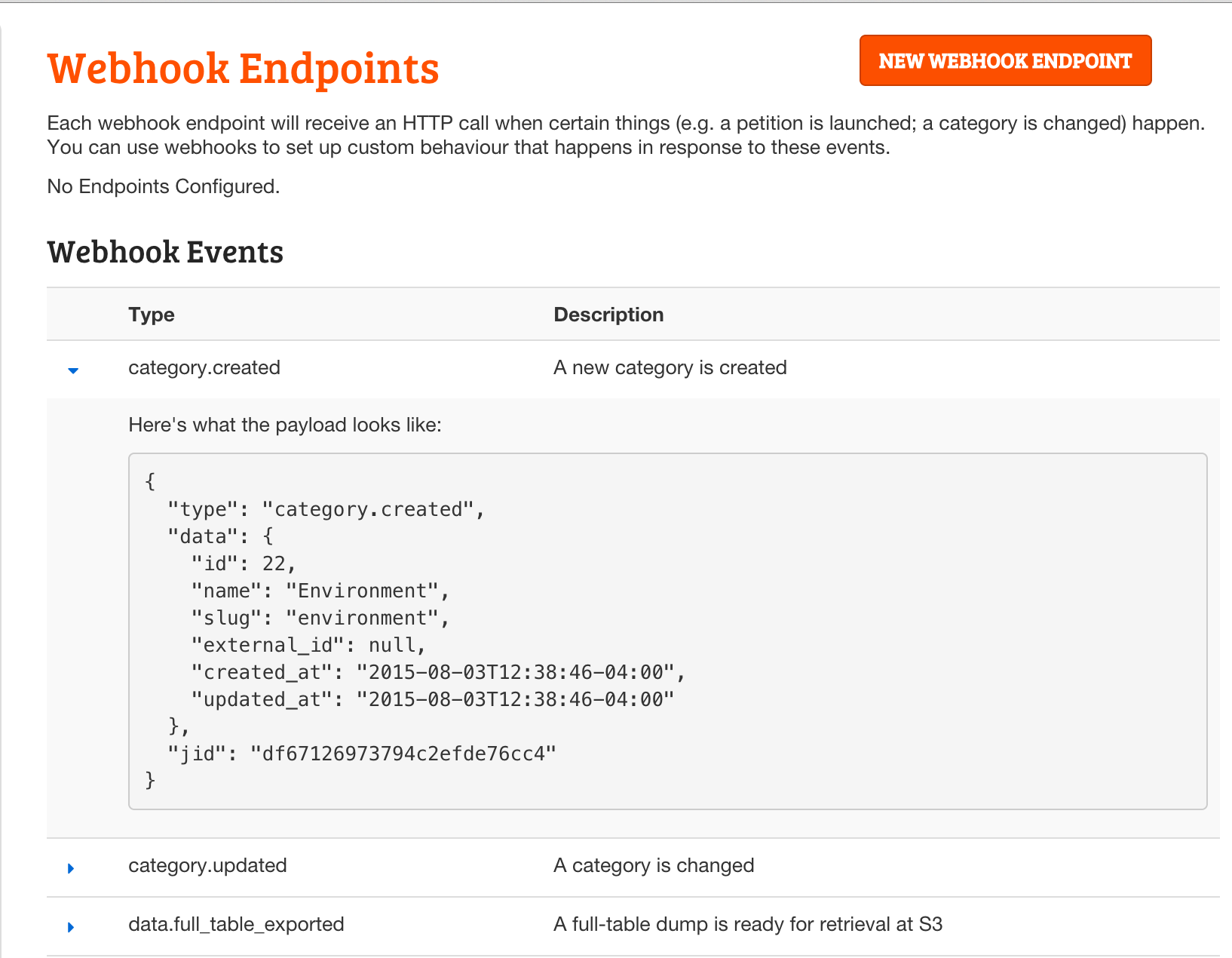 To begin using these new webhooks, go to the admin homepage and click "Settings" under "Manage." Then choose the "CRM Integration & Webhooks" tab and click "Configure Webhook Endpoints."
From here you can see the available webooks and a brief description of the information they contain. To begin sending data, you'll need to add a "New Webhook Endpoint." Each Webhook Endpoint URL receives a full firehose of all hooks that occur within ControlShift. 
Webhooks can be used by software engineers to integrate ControlShift with third-party systems. They allow engineers to build software that is triggered by events that take place within ControlShift.
We recommend using a tool like RequestBin to help debug and develop your webhook integration. RequestBin allows engineers to see all of the webhooks generated by the application and sent to an endpoint. 
As part of this update we've included two special sorts of bulk data webhooks that are designed to help you keep an external reporting or analytics database server up to date with information from ControlShift's internal tables. The data.full_table_exported and data.incremental_table_export webhooks can be consumed to keep an external database mirror containing ControlShift data up to date. This service was built in a database agnostic way, but it should be possible to build a ControlShift -> Amazon Redshift data pipeline using a technique like this one.
Full technical documentation on each sort of webhook that is being generated is available through the Webhook Endpoint area of your admin tools. 
If you need additional information about webhooks or how to use them, please send us a support email (support@controlshiftlabs.com). We'd also love stories about how customers are using webhooks.