The global unsubscribe feature is optional, so if you'd like to handle unsubscribes in this way, you can enable the option by going to Settings > Options > Petitions > Allow global unsubscribes.
---
By default, when users click the unsubscribe link included in a blast email, they are only unsubscribed from that specific petition's or partnership's mailing list. Therefore, if a user has signed three petitions, and clicked the unsubscribe link included in a blast email from one of them, he'd stop receiving updates about that petition, but would still receive email updates regarding the other two campaign. Additionally, by default, clicking to unsubscribe does not have an effect on the organization's mailing list. So in addition to receiving email updates about the remaining two petitions, our user would also still receive email sent from the main organization, through their own email client outside of ControlShift.
The global unsubscribe feature changes the way that we handle requests to unsubscribe. While the default behavior will be to unsubscribe from only a single petition or partnership, there is an additional checkbox that allows users to also unsubscribe from all other petitions/partnerships/groups on the site.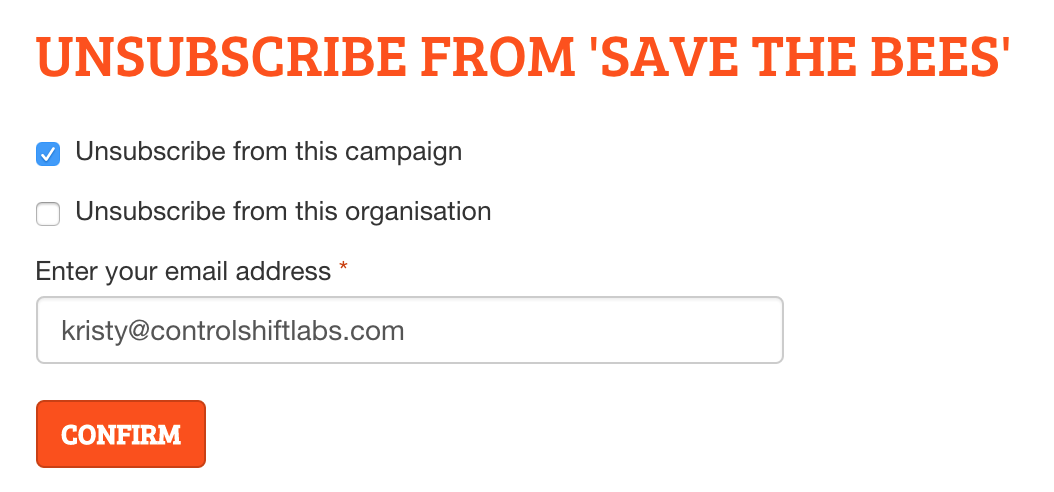 For some CRMs, including ActionKit, Action Network, and NationBuilder, we'll sync these unsubscribe requests back to your CRM. This allows your users to unsubscribe from all communications, both originating in ControlShift and in your organization's main CRM / email client.
Organizations can also export a CSV of all users who have globally unsubscribed (from the admin homepage > Export > Unsubscribes.
Please note that we do not have support for unsubscribes originating from within the CRM. This means that if a user unsubscribes from an email not sent from ControlShift, and they are marked as unsubscribed in your CRM, it will not update their subscription status for the petitions that they have signed on your ControlShift instance.
This global unsubscribe behavior is optional, so if you'd like us to turn it on for your organization, please let us know by sending a support email.