If you've ever stumbled upon your organization's settings page, you were probably a bit overwhelmed by the number of checkboxes. To help you overcome any residual fears, this article will take an in-depth look at the what your options are and what they do.
To get to the settings page, go to the admin homepage and click Settings. The different sections of this page are: Branding, Social Media, Integrations, Time Zone & Locale, Contact Information, Membership Options, Petitions Options, Local Groups Options, A/B Testing, and Disclaimers.
---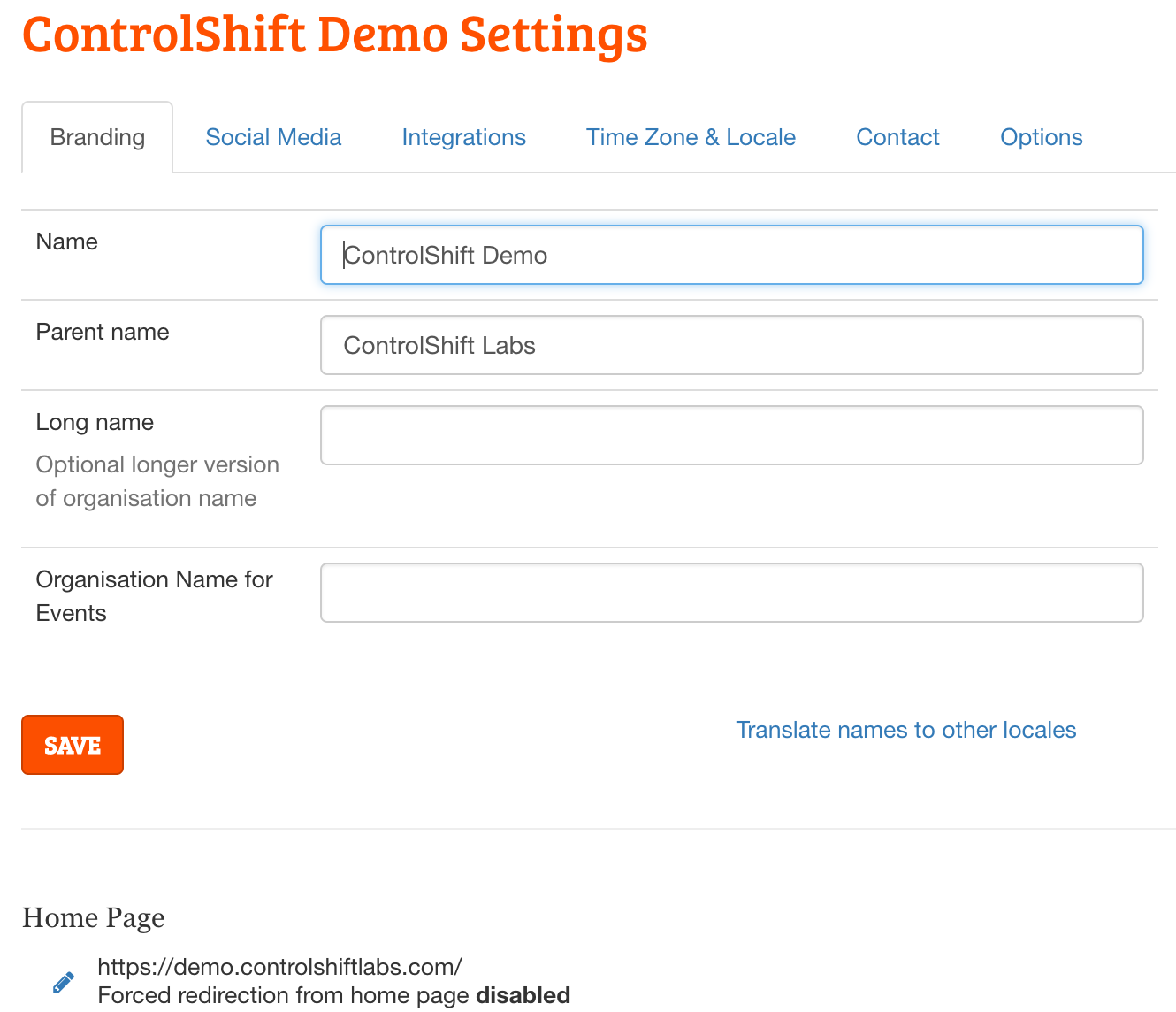 Branding
The first tab on this page deals with your organization's identity and branding settings.
The site Name is generally the name of your organization. This name is used in a lot of places, like the site's tab name, and emails that include a "The [Organization Name] Team" sign off.
The Parent Name is optional. The main place this name is used is in the site's footer, where a "Powered by ParentName" line will be included.

The Long Name is optional. You can use it if you want a longer version of your site name to be used where space permits. Some places that this long name is shown: event RSVP forms and the offline signature collection form.


The Organisation Name for Events is also optional. This may be helpful if your site name is not the name of your organization.


To provide translations for any of these names, click the Translate names to other locales link. When you're done, click Save.

Next there are settings related to the homepage.
The URL listed below the Home Page header shows you the URL that is used when someone clicks the logo in the header. If you want users to be sent to a different page (on or off site) when they click your organizations logo, click the pencil icon and enter the URL here. By default, even if you've overridden the logo link, people will still be able to see your ControlShift homepage if they go to the homepage's URL. However, if you want to completely hide this page from all visitors, check the Force redirection from home page to overridden URL option. When this box is checked, anyone who goes to the default homepage's URL will be automatically redirected to the overridden URL.


The link to Edit Logo Images may be useful if you need to update your logo, or if you're planning to offer your site in multiple languages and need to use different logos for each language. When adding new logos, make sure that the new logo is the same size as your default logo and has a transparent background. If the logo is a different size, or has a differently colored background, it may not display correctly. When you've selected the appropriate file, choose which locale this logo is for. After hitting Save, the logo will be added and users who are visiting your site in the associated language will see the alternate logo.

Also on this page, you can specify your site's favicon, the image displayed next to the site's name (like below), and the larger Touch favicon, which is used for certain mobile devices.

The Configure header and footer link takes you to a page where you can configure various links:
The Header Links section allows you to add links to the header. You can use this for timely templatized campaigns, donate links, etc.


Footer Links (Desktop) allows you to add/edit/delete links in the footer. These links are displayed on desktop-sized screens.


Footer Links (Mobile) allows you to add/edit/delete links in the footer. These links are displayed on mobile-sized screens.


Homepage Links allow you to re-link the About Us link that's displayed below the Start a Campaign button on the homepage carousel.
The Image Upload Form Placeholder is used to remind people to upload images for petitions/events. This is not used as a default image when an image is not uploaded.


The Default Event Header Image is used in the header of events when an image is not specified.

The iframe code included here allows you to embed a map of petition locations into an external site.

This map will only include petitions that have a specific location and will mirror the map used in the alternate homepage (which is the "normal address for your homepage"/explore).
---
Social Media
The next tab covers your organization's social media settings.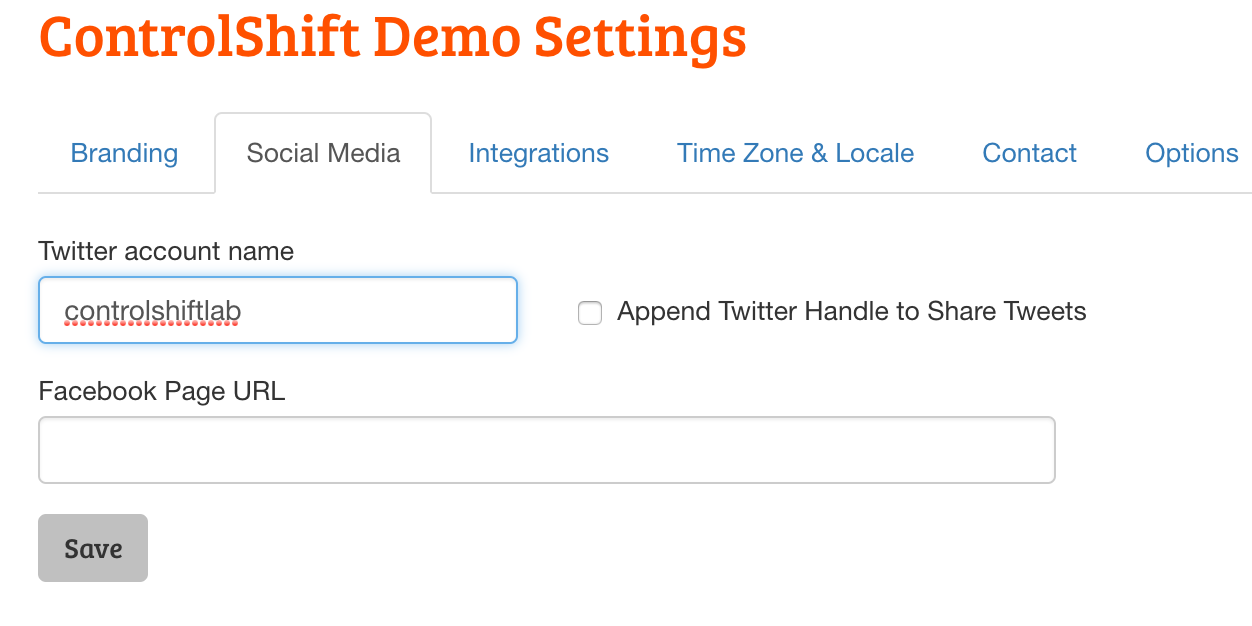 We generally add social media accounts during the initial setup process, but if for some reason you need to change your Twitter handle or the URL of your Facebook page, you can do so here. When your organization's information is included in these boxes, a Twitter and Facebook button will appear in your site's footer.

The Append Twitter Handle to Share Tweets option allows you to decide if you want your organization's twitter handle to be included on tweets that are sent using the twitter buttons located on the petition page. When enabled, "via @YourOrganization" will be included after the petition URL.

---
Integrations
The Integrations tab will provide information about whether your organization's site is connected to a CRM. While this may not be configurable, you can disconnect from your CRM, if needed.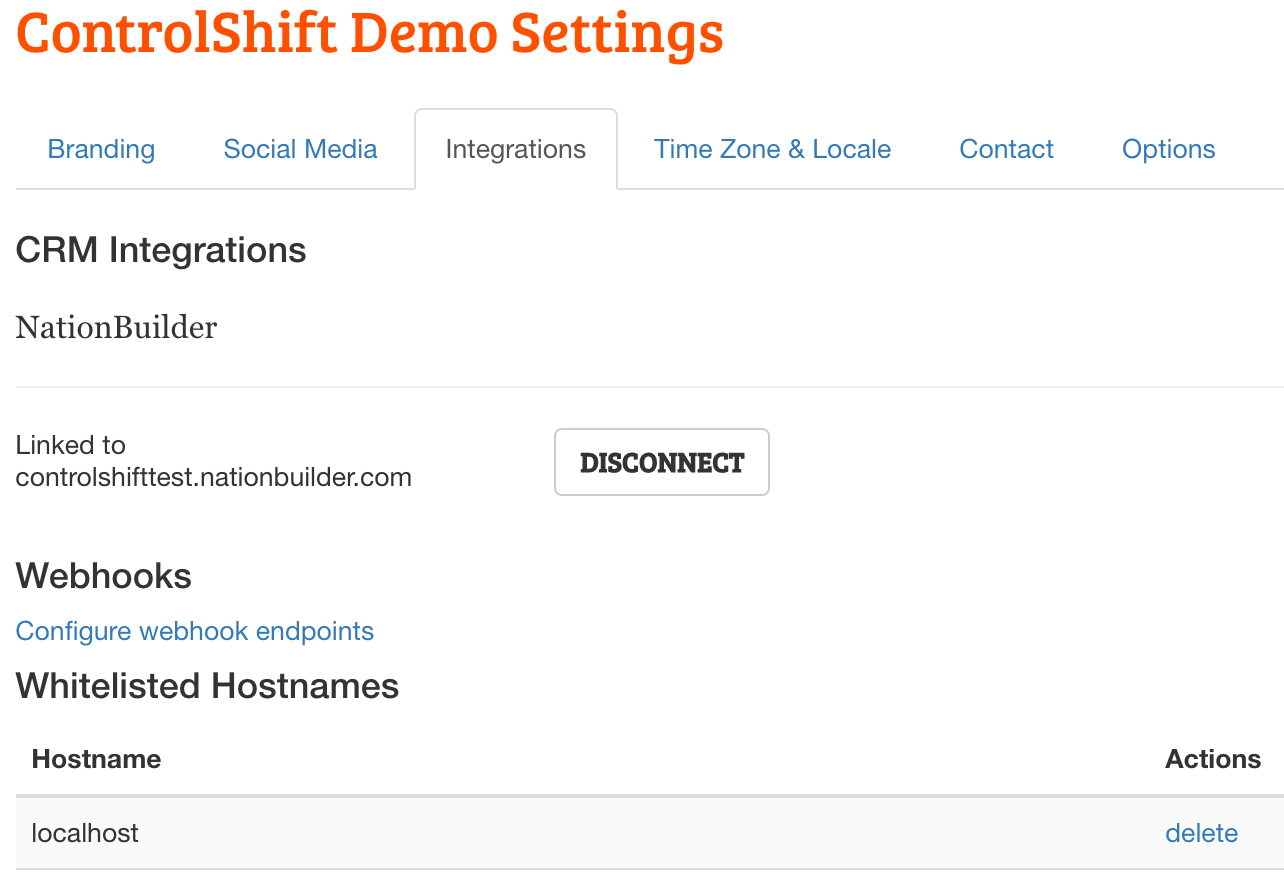 Additionally, from this page you can configure webhooks, API integrations, and view a list of whitelisted domains.
---
Time Zone & Locale
The next tab deals with your Time Zone & Locale. We normally configure your timezone during the initial set up process, but it can be changed from here, if necessary.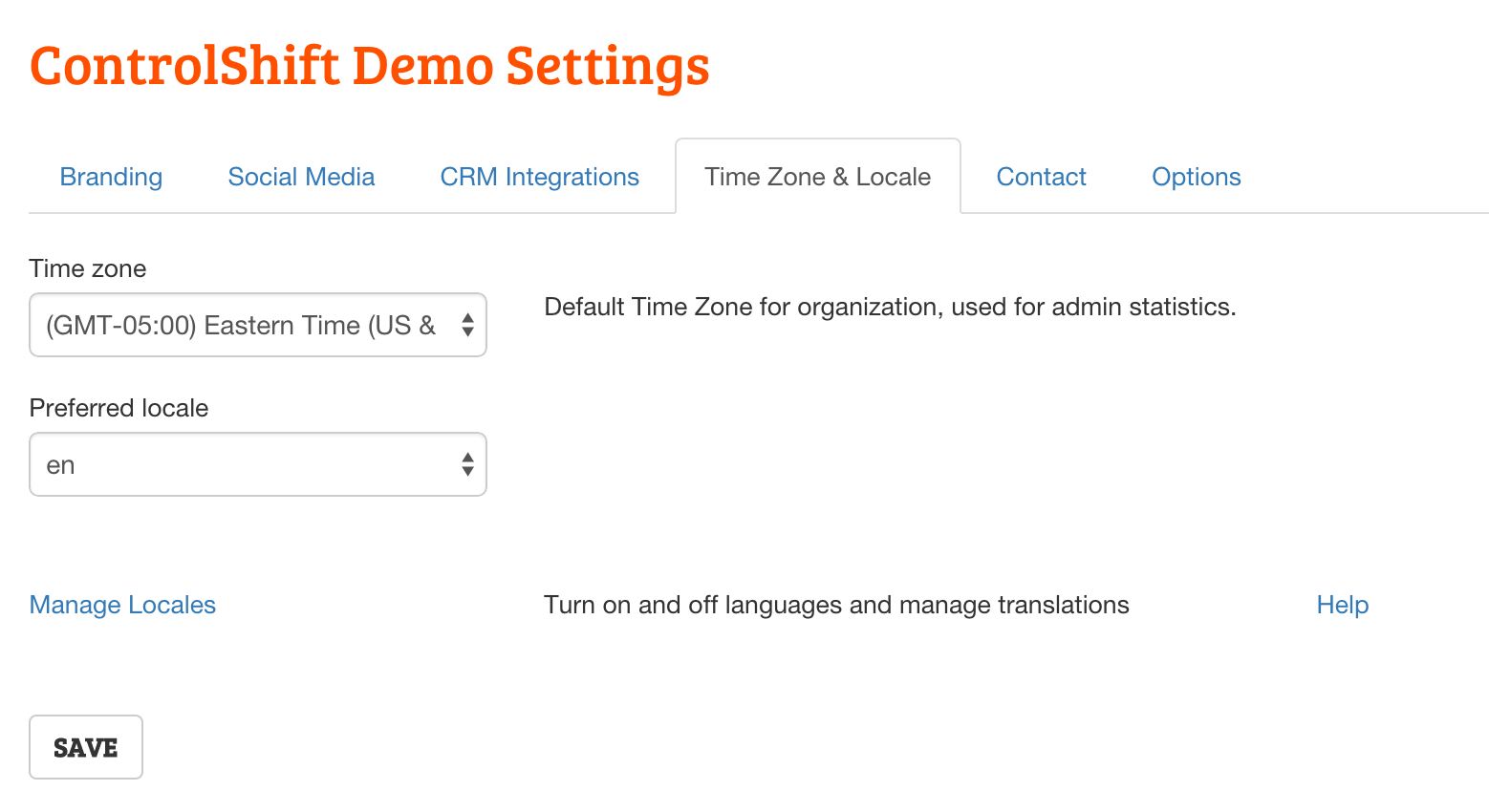 ---
Contact
The next tab deals with your organization's contact information.

The Contact email is the address that's displayed when emails are sent through the platform. This includes emails from petition creators to their supporters and the automated emails that are sent whenever a user takes action on your site. If a user replies to one of these automatic emails, the reply will be sent to this address*; therefore, this email should be able to receive replies.


The Notification Settings option allows you to decide who is notified when certain events occur on the platform. If you need additional information, this article will walk you through the options available.
*For information about changing this default setting, see the Expose Sender's Email option in the petitions settings below.
---
Options - Membership
The next tab is the settings tab. We'll look at each of these sections separately starting with the membership options.

If you check the box labeled Requires user confirmation on sign up, users who create an account during the petition creation process will be immediately asked to confirm their email address. If this box is not checked, these users will directed to the signature page/creator tools after launching their petition. However, regardless of whether you check this box or not, users will have to confirm their email address in order to have access to the 'email supporters' tool.


If you check the box labeled Always join the org on sign up, all users who sign up for full accounts or who take action on the site will be automatically added to your organization's mailing list. If this box is unchecked, users will be shown an opt-in. (For more information on configuring this opt-in, see our discussion of disclaimers.)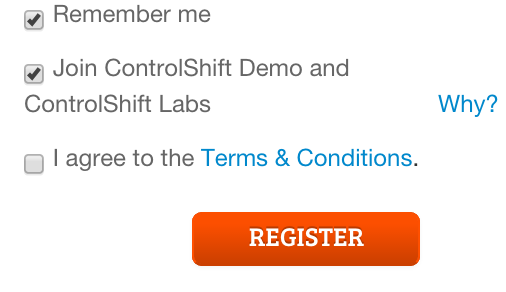 If you want to give your users the option of including their phone number during the registration process, check the box labeled Phone number not mandatory for user registration. If this box is not checked, the phone number will be required.


The final option in this membership section is the organization admin who will take over assets that have been orphaned by a user deleting their account. If there is no user set, users who have created petitions or events will NOT be able to delete their accounts. Instead these accounts can only be deleted by administrators. We strongly recommend assigning an admin using this dropdown. When assigned, the chosen admin will be notified when a user with assets deletes their account; the notification will include the names of and links to the events or petitions that the deleted user created.
---
Options - Petitions
Next we'll look at settings for petitions.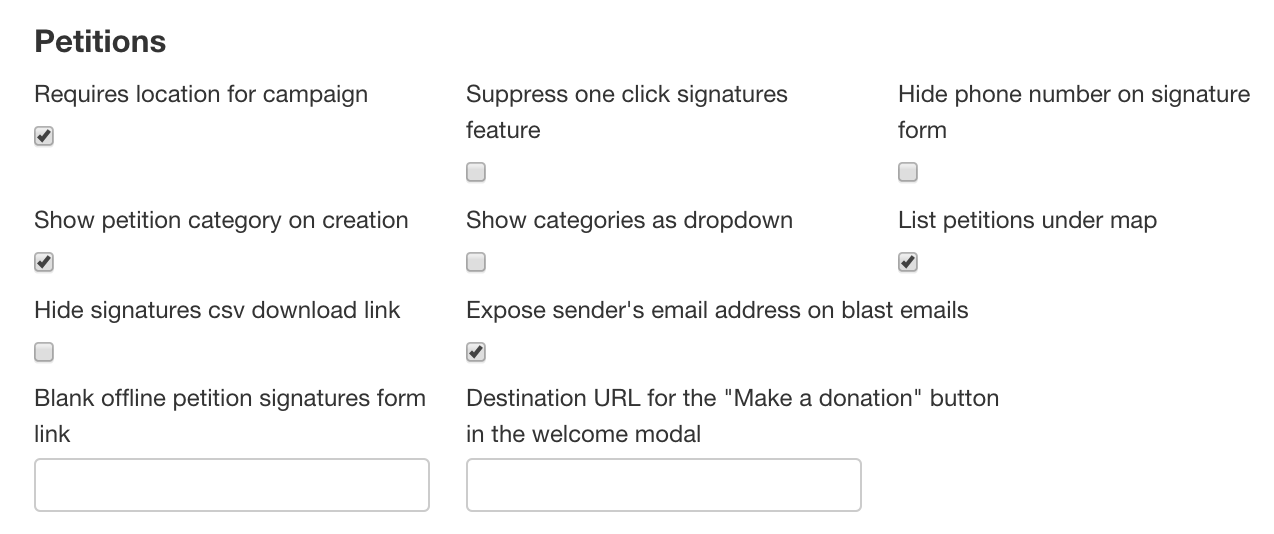 When Requires location for campaign is checked, the petition creator will be asked to provide a location for their campaign. They can either enter a specific location or indicate that the campaign is a national or international campaign without a specific target location.


If you're using ActionKit or Identity, one-click functionality is available. If you don't want to use one-click, check the box labeled Suppress one click signatures feature.


If you don't want to collect signers' phone numbers, click to Hide phone number on signature form.


If you have categories enabled on your site, you'll usually want to allow petition creators to self-select the categories that their petition falls into. This is the toolset's default behavior. If you don't want petition creators selecting categories when they create their petition, uncheck the box labeled Show petition category on creation.


By default, categories are shown in a block of checkboxes (see below). However, you can instead choose to Show categories as drop down (also below).
| | |
| --- | --- |
| | |
List petitions under map toggles whether we display a list of petitions beneath the map of petition locations on an effort's landing page. (What's the effort's landing page?)


Hide signatures CSV download link prevents petition creators from downloading a CSV of signers from the petition delivery page. Instead, their only option will be to download a PDF of the petition and its signers.

The option to Expose sender's email address on blast emails changes the way blast emails are sent and replied to. By default, when a petition creator sends an email to their supporters, the 'from address' will read 'Petition Creator's Name via Your Organization' and will list your organization's contact email (which is set above).

If you choose to expose the sender's email, the above information will display the same way, but the message will include the email creator's email address as the 'reply-to address'. When this setting is not enabled, all responses to blast emails will be sent directly to your organization. When it is enabled, these responses will be directed to the email creator.


If you enter a URL in to the Blank offline petition signatures form link it will override the default behavior for offline signature collection.

By default, when someone clicks the Printable Blank Form button, the system generates a pdf that includes the petition title, the petition ask, and rows for people to enter their name, email, phone number, etc. However, if you want petition creators to collect signatures on a different form, you can link to it here. This is not a setting we would recommend for most organizations because it's important that people signing the petition offline can see exactly what they are adding their name to.
If your organization is using the welcome modal, there are three possible buttons that will be displayed: start a campaign, make a donation, and more campaigns. If your organization is not using TakeCharge and the Destination URL for the 'make a donation' button in the welcome modal box is blank, then the make a donation button will not be included in this welcome modal. If you have TakeCharge enabled and you enter a URL into the the Destination URL for the 'make a donation' button in the welcome modal box, it will override the default settings so that when someone clicks the 'make a donation' button, they'll be brought to the URL you entered, instead of being asked to donate through the TakeCharge module.


The Allow global unsubscribes option gives members who wish to unsubscribe the option of unsubscribing from a single petition or from all platform communications. Learn more.


The Collect physical signature option will add a new column to the offline petition signatures form. The new column will allow someone to add their actual physical signature to the form.


The New petition title meta tag allows you to add a title meta tag that is used when the new campaign form is shared on social media.


The New petition description meta tag allows you to add a description meta tag that is used when the new campaign form is shared on social media.

The Petition default social share image is used when an image-less petition is shared on social media. By default, our image-less-petition share image says "We're almost there!" (see below). However, you can override the default image and use a different share image whenever a petition image is not present.

---
Options - Local Groups
If your organization has the groups tool enabled, the next section allows you to specify a Learn more about local groups page URL.

This page can include tips for running a local group, including organizing suggestions, topics to discuss, and the responsibilities of a local group organizer. When a URL is entered here, a 'Learn More' button will appear on the page that users are directed to after submitting their request to form a new group.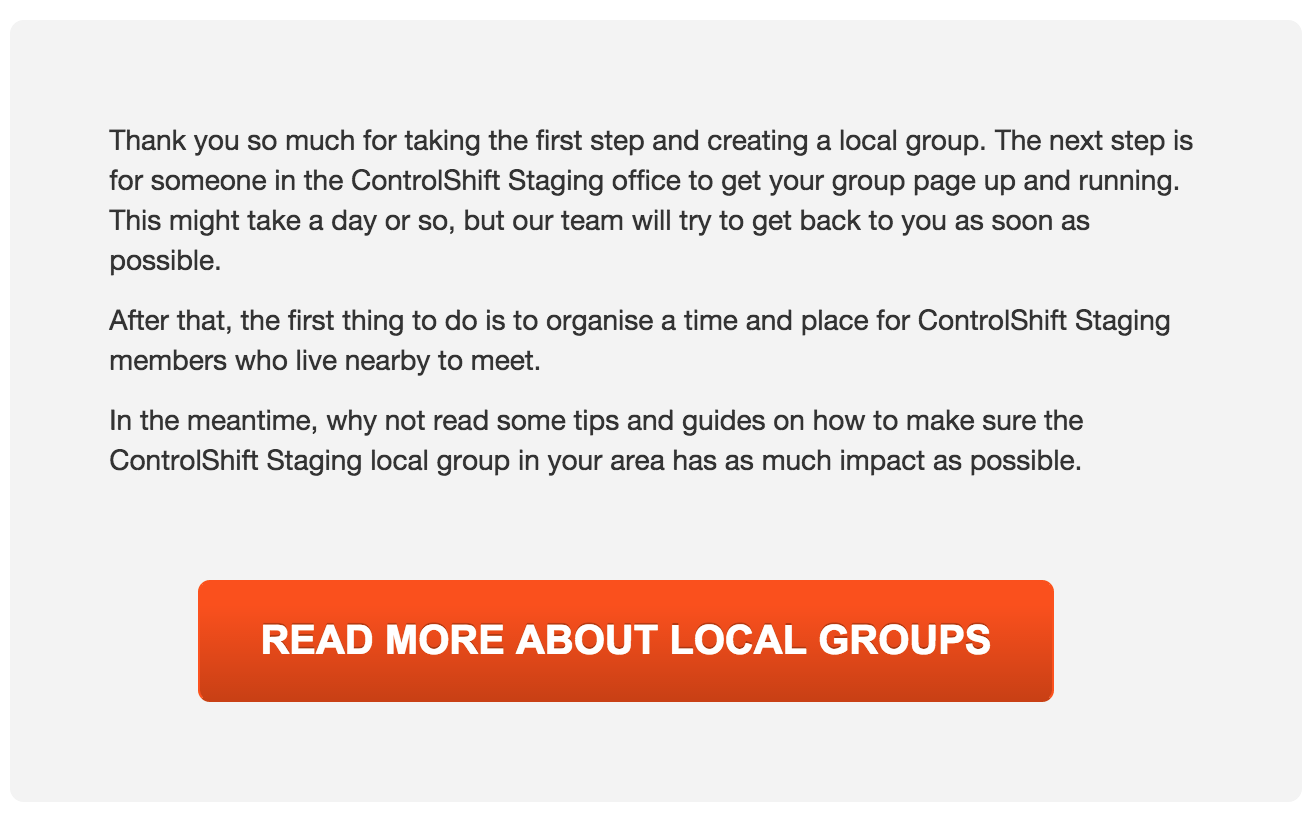 ---
Options - A/B Testing
The A/B Testing section allows you to run A/B tests using Optimizely.
---
Options - Disclaimers
The disclaimers section allows you to tell your supporters how you'll use their information.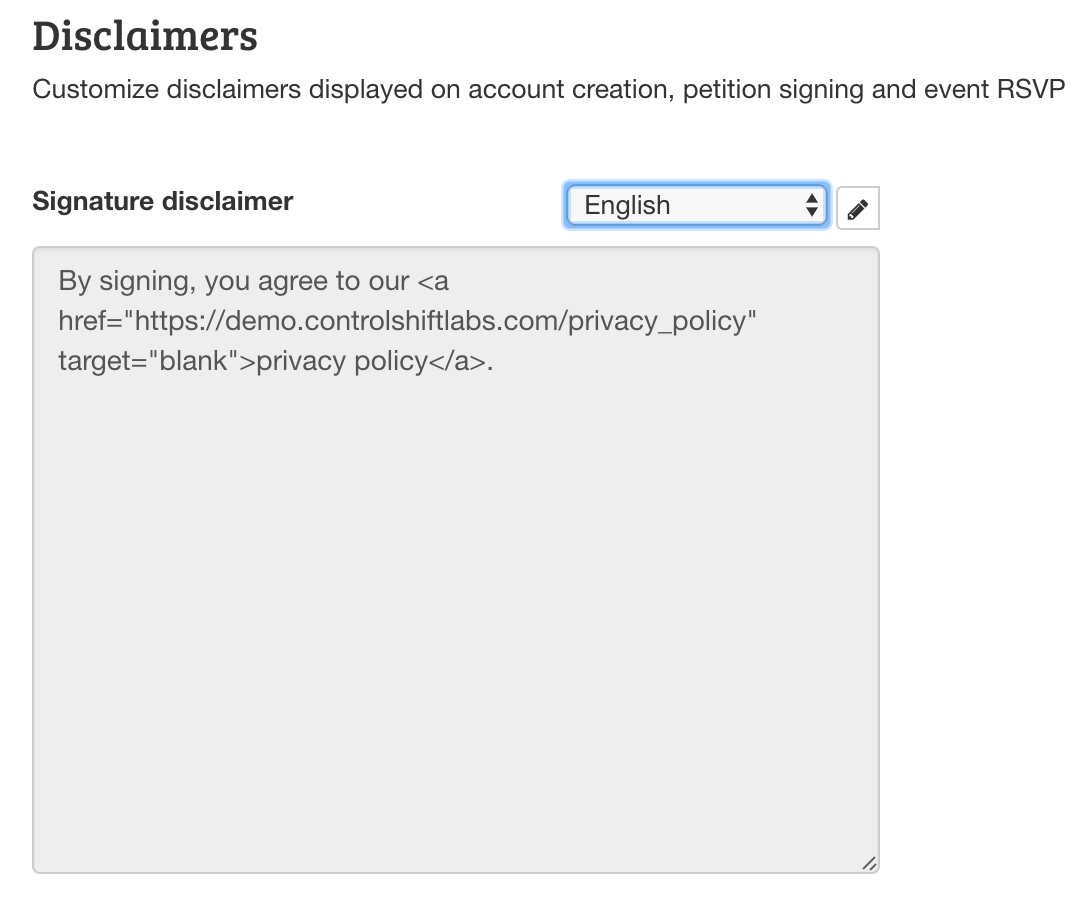 We strongly recommend including signature disclaimers so that your users know how their information will be used. For more information about disclaimers, please see our disclaimers discussion.
---